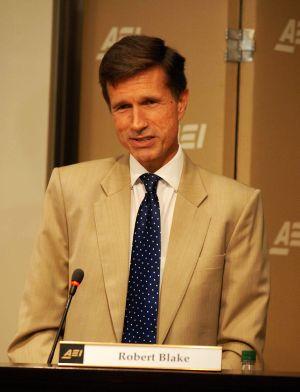 Ambassador Robert Blake, assistant secretary of state for South and Central Asia, on Tuesday said that the Indo-Pakistan ties would improve if the suspects of the Mumbai attack are tried and convicted by Islamabad.
Noting that resumption of a composite dialogue remains a high priority for India and Pakistan, Blake said that first the terrorism-related issues should be resolved.
'It would be very helpful if the suspects of the Mumbai attack in custody in Pakistan are tried and convicted. I think that would be a very important signal for the Indians," Blake said while addressing the Asia Society on Strengthening US-India strategic partnership ahead of Prime Minister Manmohan Singh's first official state visit to Washington under the new administration.
Blake said that on the foreign policy front there are significant challenges in India's periphery that also needs to be addressed if New Delhi has to realize its ambition of being a global power.
'We all know about the tensions with Pakistan, particularly post 26/11. The attacks are still on the minds of all Indians and Pakistanis. This is an issue that has to be solved primarily by the Indian and the Pakistanis," he said.
'The US is also a friend of the two countries. Particularly on the counterterrorism front, we are trying to help both of them so they can work together. Certainly that is a key if both countries are to resume their composite dialogues,' he said.
In response to a question he said Islamabad should not feel threatened by Indian activities in Afghanistan. Noting that India provided more than a billion dollar worth of development assistance to Afghanistan for many projects all over Afghanistan and they are not focused on the Pakistani border or anything like that, Blake said the assistance had a very important effect on Afghanistan.
'I think India has been very careful not to provide any kind of security assistance that might be sensitive within Pakistan, to that country. So, I really do not think that Indian activities within Afghanistan should be seen as a threat,' Blake said. 'This is something that certainly we welcome.'
He said one of the important initiatives that US is working on is to try to have transit trade  between India, Pakistan and Afghanistan that would open up more opportunities for more Afghan fruits and vegetables to be exported to India through Pakistan.
'We are hopeful that it would be a very important area of new convergence between the three countries. There are important negotiations going on right now on the issue,' he said.
Blake, who touched upon the broad contour of Indo-US relationship, said that Prime Minister Manmohan Singh is coming to the US during his first official state visit with a renewed sense of optimism and sense of purpose following the Congress party's massive electoral victory earlier this year.
'His visit is sign of the importance President Obama attaches to India and the deep respect he has for Prime Minister Singh,' Blake said.
He said thanks to the massive mandate that the party got, it is now less dependent on its coalition partners unlike during the previous term and ahs more freedom to pursue its goals and objectives.'
"So, we can look forward to four to five years of real opportunity to work with our Indian friends and to advance our relations not just in the bilateral front but also in the multilateral front,' Blake said.
The ambassador indicated that during Singh's visit, the issue of non-proliferation may figure in the talks.
'Both Singh and Obama share the vision of a nuclear-free world. We would like China, Pakistan as part of that as well. I think our challenge is to work through some of these very sensitive issues to talk about ratification of CTBT, work on fissile material cut off treaty,' he said.
'Because we made an exception for India for the civil nuclear deal, we have now to try to finish that work with India so it becomes more and more part of non-proliferation dialogue. I think they (India) want to do that. We are optimistic that we can make some progress on these sensitive issues,' he said.
'Ellen Tauscher, under secretary for arms control, is in India right now to begin some of those conversations,' Blake said.
Image: Robert Blake; Photograph: Paresh Gandhi