Construction activities at Nariman House, one of the sites which bore the scars of 26/11 Mumbai attack, are in full swing ahead of the memorial service to be held there on the first anniversary of the strike.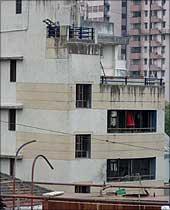 "The restoration work started last Saturday after we were awarded the contract on Tuesday. We have been asked to complete the work before November 26 as they are going to hold some candle light vigil," the construction in-charge told PTI on condition of anonymity. The five-storey building, also known as Chabad House in Colaba in south Mumbai, stands as a mute testimony to the two-day terror siege with walls of its rooms and passageways pockmarked by hundreds of bullets and splinters from grenades.

"The temporary construction would be completed before November 26 after which complete restoration work would be taken up," he said as workers went about the job at a furious pace removing shards and slabs of plaster to ready the place. However, on the bustling street below, life goes on as usual with fitness buffs pumping iron in a gymnasium and children immersed in a lively gully cricket match, forgetful of the tragedy that will perhaps remain etched on Mumbai's psyche forever.
Nariman House, a Jewish outreach center run by Chabad-Lubavitch Movement having an educational center and a synagogue, offered drug prevention services and stay to the people of their faith. It was run by Rabbi Gavriel Holtzberg and his wife Rivika, who had come to Mumbai in 2003 to serve the local Jewish community. On November 26 2008, two Pakistani terrorists had seized the building around 9:45 pm and almost 45 hours later, when the deafening rat-a-tat of gunfire and grenade blasts died down, six of its Jewish occupants, including Rabbi Gavriel and five-month pregnant Rivka, were no more.


The two terrorists--Babar Imran and Nasir alias Abu Umer--also died in an encounter with National Security Guard personnel. However, Moshe, the two-year-old son of the Holtzbergs, was saved by his Indian nanny Sandra Samuel and the family's handyman-cum-cook Qazi Zakir Hussain alias Jackie, a Muslim. Moshe now lives in Israel with his grandparents and Sandra moved with him to take care of the orphaned child. The Israeli government honoured her with the title of 'Righteous Gentile', the highest award presented to non-Jews, and allowed her an extended stay in the country.

Among those dead was 50-year-old Norma Shvartzblat Rabinovich, who was at Nariman house waiting for her immigration papers to be ready to enable her to board a flight on December 1, to Tel Aviv to be with her family for her son's 18th birthday.
Norma, who was made to speak to the terrorists' Pakistani handlers amidst the raging battle with NSG personnel, was shot dead on their instruction. Her recorded conversation with the Pakistani handlers was played in the special court trying the 26/11 terror strike case. Though 14 people in the building were rescued by NSG, who stormed the structure after landing on its roof from a helicopter, three other Jews--Yocheved Orpaz, Rabbi Aryeh Leibish Teitelbaum and Rabbi Bentzion Kruman-- and Havildar Gajendra Singh Bisht, a 36-year-old NSG commando involved in the operation, were killed.

Bisht was posthumously awarded the Ashok Chakra.The official website of the Nariman House says, "We invite compassionate men and women from around the world to join hands in building the new Chabad House of Mumbai, reviving the light of kindness and acceptance and restoring the Holtzbergs' life mission--bigger and brighter than ever." A wall opposite Nariman House with bullet marks reads, "We condemn the 26/11 terror attack."
Image: Nariman House