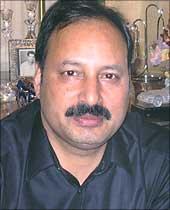 The bulletproof jacket worn by slain Anti-Terrorism Squad chief Hemant Karkare during 26/11 terror attacks has gone missing, wife of the slain officer has alleged, raising serious questions on the manner in which evidentially materials were preserved.
"When his body was found, the bulletproof jacket was missing...even at the hospital...I filed RTI application a few months ago asking where the jacket was but the reply I got was that it is missing..," Kavita Karkare told PTI in an interview.
Karkare, a 1982 batch IPS officer, was killed in an ambush near Cama Hospital, along with another Indian Police Service officer Ashok Kamte and encounter specialist Vijay Salaskar during the November 26 terror attacks.
Despite wearing bullet-proof jackets, the officer received three fatal bullet-injuries in chest which raised a question mark over the efficacy of these jackets in the wake of such terror attacks.
"TV channel recording clearly shows Hemant wearing a jacket at CST and leaving in the van...so where did the jacket go...I do not know if someone took it from him after that or it was removed from his body later, but it is missing...," she said.

Karkare also raised questions over the manner in which the terror strikes were handled by the Mumbai Police. "I am surprised as to why there was no back-up sent for my husband and other officers in the van...Hemant had asked for back up and was waiting for 40 minutes but no one was sent...," she said.
She said her husband was not a person who would prefer to sit in air-conditioned cabins and instruct his subordinates, instead he preferred to take situations head-on. "He being a senior officer could have sat in an air-conditioned cabin giving instructions to his subordinates, but he always liked to be on field...," an emotional Karkare said.
"If a back-up had been sent as soon as Hemant had asked for it, then Kasab and the other terrorist could have been nabbed at Cama lane itself...," she said.

Karkare had been credited for solving the serial bomb blasts in Thane, Vashi and Panvel. His investigations also brought forth stunning revelations of involvement of radical saffron group in the September 29, Malegaon blasts.
Image: Hemant Karkare