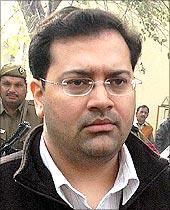 Manu Sharma, who is serving a life sentence for the murder of model Jessica Lal, returned to Tihar Jail on Tuesday on his own, 12 days before his parole expired, after a controversy raged over alleged parole violation by him.
In a significant development that lent weight to allegations that Manu violated parole norms, the Delhi police sent a letter to the Delhi government, confirming his presence at a night bar in a city hotel.
With its decision to grant parole to the 32-year-old convict coming under intense criticism, the Sheila Dixit government had sought a report from the city police, to find out whether he violated parole norms, following reports about his presence at a local nightclub.
Manu came back to Tihar's Jail No. 2 at approximately 11:45 am, though his parole was set to end on November 22, a top jail official said. Sharma was awarded life imprisonment for the murder of Jessica Lal in 1999.
A controversy erupted after Sharm, along with a friend Sahil Dhingra, was reportedly spotted at LAP Lounge Bar last week, in violation of his parole norms. Actor Arjun Rampal, the co-owner of the bar, said Sharma visited the bar as a guest of Dhingra, one of the members of the club. Sharma is the son of Haryana Congress leader Venod Sharma.
Chief Minister Sheila Dixit said it 'is good' that Manu has gone back to jail. Asked whether Sharma will face any penalty for violating parole conditions, she said, "I do not know about it".
Jessica Lal's elder sister Sabrina Lal said, "He (Manu) went back because he wanted to avoid any more controversy."
"What has been the most disappointing thing in the whole matter was that the parole was granted on very flimsy grounds. One has to be on the lookout on what he is up to," she added.
A top Delhi government official said Manu should not have been present in Delhi, as he was given parole under the condition that he will visit Chandigarh, to meet his 'ailing' mother.
"We have sought a detailed report from the Delhi police about whether Sharma visited the city," he said.
Manu had sought parole to attend to his 'ailing mother' and some business matters in Chandigarh. However, his mother held a press conference in the family-owned hotel 'Piccadily' in Chandigarh last week.
Dhingra was taken into preventive custody after he allegedly entered into a fight with some people at the bar. However, Manu reportedly managed to give police the slip by exiting from the rear door of the bar.
Legal experts and the Opposition Bharatiya Janata Party trained their guns on the Delhi government, alleging he was granted parole under 'political pressure', a charge strongly denied by Sheila Dikshit, who said it was done under 'legal purview'.
Nearly 400 parole applications are received each year, of which only 100 are granted, depending on the reason given for the temporary release, according to an official. Rampal said after the incident, the club has revoked the membership of Dhingra.
"We got to see it (Manu's visit) because of the CCTV footage," the actor claimed.
The police came to LAP bar following a complaint against Dhingra, who allegedly picked up a brawl with the son of a senior police officer in adjoining Ashok Hotel's F-Bar. Dhingra was accompanied by Manu to the bar. Once the matter was sorted out, the duo moved to the adjoining LAP.