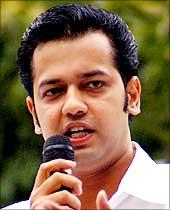 The long stalled trial in the drug abuse case allegedly involving Rahul Mahajan, son of slain Bharatiya Janata Party leader Pramod Mahajan, could not start on Monday, as the relevant judicial records were not received from Delhi high court.
Additional Sessions Judge J P S Malik adjourned the hearing in the case, in which the witnesses were to record their statements, to December 22, due to lack of records.
Mahajan, who was in the news recently for his decision to participate in a television reality show for selecting his bride, appeared before ASJ Malik.
However, no effective hearing took place as the judicial records were with the high court, which has been hearing various appeals filed by Mahajan and other co-accused against the lower court order of framing of charges against them under the Narcotics Drugs and Psychotropic Substances Act.
Earlier on August 24 and September 29 too, the hearing in the matter was adjourned due to similar reasons.
The trial in the case was slated to begin from December 22, 2008, as the court, empowered to hear cases relating to the NDPS Act, was expected to get back the file.
The high court is hearing a bunch of petitions filed by Mahajan, Sahil Zaroo, Harish Sharma, personal assistant of Pramod Mahajan, challenging framing of charges against them.
The Delhi police, however, wants to press additional charges against them pertaining to commercial quantity of the contraband, which envisages higher punishment.
Mahajan has been accused of consuming and distributing drugs at the official residence of his slain father on the night of June 2, 2006.
Mahajan, along with his late father's secretary Vivek Moitra, was admitted to Apollo hospital in New Delhi in the wee hours of June 2, 2006, after allegedly consuming contraband drugs.
Moitra later died at the hospital.
Mahajan, who was charged with allegedly consuming the contraband, was absolved of the charges of drug trafficking which carries harsher punishment.
Earlier, the court had framed charges against Mahajan, Sharma, Zaroo, Nigerian nationals Abdul Latif Ashola alias Mohd Abdullah, Egbedokun James Taiwo and others under various provisions of the Indian Penal Code and the NDPS Act for their roles in the case.
Image: Rahul Mahajan