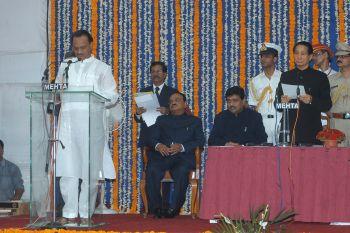 Ashok Chavan was on Saturday sworn in as the 21st chief minister of Maharashtra with his 38-member council of ministers, ending the fortnight-long political logjam with coalition partner the Nationalist Congress Party over portfolio distribution that delayed government formation by two weeks.
The two-tier government has 27 cabinet ministers and 11 ministers of state. While 18 ministers are from the Congress, Sharad Pawar-led NCP has 20.
Chavan, would-be deputy Chief Minister Chhagan Bhujbal and other ministers were administered the oath of office by Governor S C Jamir at the Raj Bhawan lawns.
Ministers of state in the outgoing government Naseem Khan, Suresh Shetty and Hasan Mushrif were elevated to cabinet rank.
Former ministers R R Patil, Rajendra Darda, Laxmanrao Dhoble, Anil Deshmukh, Shivajirao Moghe and Jaidutt Kshirsagar have made a comeback as cabinet ministers.
Cabinet ministers in the outgoing ministry who have been dropped include Vijaysinh-Mohite Patil, Surupsinh Naik, Dilip Walse Patil, Anees Ahmed, Vimal Mundada, Chandrakant Handore, Nawab Malik, Vinay Kore, Rajendra Shingane, Raviseth Patil, Madan Patil, Rameshchandra Bang and Dilip Deshmukh.
Eleven ministers of state, including two women, were also sworn-in. Fauzia Khan of the NCP is a Member of Legislative Council and Varsha Gaikwad of Congress is a Member of Legislative Assembly from Dharavi.
Except Ranjit Kamble and Vijay Waddetiwar of the Congress, all others -- Bhaskar Jadhav, Prakash Solanki, Sachin Ahir, Gulabrao Devkar (all from the NCP), and Padmakar Walvi, Abdul Sattar, Ramesh Bagwe (from the Congress) -- are new faces.
Prominent first-timers like Amit Deshmukh and Praniti Shinde, son and daughter of union ministers Vilasrao Deshmukh and Sushilkumar Shinde respectively, and President Pratibha Patil's son Rajendra Shekhawat could not make it to the ministry.
The swearing-in was preceded by protracted bargain over portfolio-sharing and number of ministers the coalition partners would have.
At one point, the negotiations appeared quite close to breaking when Bhujbal talked of extending "outside support" to a new Congress dispensation.
Concerned over the delay, Governor Jamir summoned Chavan and Bhujbal on Wednesday and asked them to form the government at the earliest to respect the people's mandate.
Eager to fish in the troubled waters, opposition Bharatiya Janata Party-Shiv Sena combine met the Governor the very next day and sought imposition of President's rule as the tenure of the 11th assembly had expired on November 3 and the Congress and the NCP were "still haggling" over portfolios.
The first meeting of the new cabinet would be held in Mumbai on Sunday to decide the date for convening the maiden session of the 12th assembly.
Image: NCP leader Ajit Pawar takes the oath to Maharashtra assembly, as Deputy Chief Minister Chhagan Bhujbal and Chief Minister Ashok Chavan look on | Photograph: Arun Patil