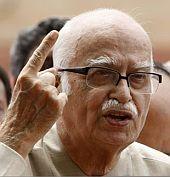 L K Advani, who turns 82 on Sunday, may quit as leader of the opposition in Lok Sabha early next year after a new president takes over the Bharatiya Janata Party.
Rashtriya Swayamsevak Sangh sources have indicated that Advani might step down in February once the formalities are completed and a new BJP president takes over from Rajnath Singh, whose tenure ends in December.
In the wake of the BJP's electoral debacle, the RSS leadership had asked Advani to choose his successor as well as ensure a smooth change of leadership after the present incumbent completes his term.
A BJP leader echoed similar sentiments, saying Advani is not stepping down now, but there is a possibility of him quitting once a new president is chosen.
RSS sources said the issue has not been discussed afresh.
These decisions were held a couple of months ago during a series of meetings were held between the RSS chief (Mohan Bhagwat) and the BJP leadership.
Meanwhile, Bhagwat had said in an interview to a news channel that he was told by BJP leaders that the party's new president will be from outside Delhi.
Image: Leader of Opposition L K Advani