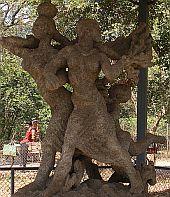 Santiniketan, Rabindranath Tagore's abode of peace in West Bengal, is in turmoil again.

Visva Bharati, founded by the poet and now a central university, which had been closed since September 24, reopened on Thursday. It took an appeal from Prime Minister Manmohan Singh, who is also chancellor of the university, to coax the striking elements to return to work.


The prime minister has never interfered in the affairs of Visva Bharati before. But the situation called for his healing touch. For over 10 days, workers and teachers in the university had been locked in a tussle with Vice Chancellor Rajat Kanta Ray, showing how a premier centre of education can become a haunt for power politics of the ugliest sort.


In response to the allegations of the faculty as well as workers, Ray had demanded a thorough enquiry by an external agency into not only his own conduct but also against the 'wrong-doings' of some of the workers.


This caused leaders of the Congress, the Trinamool Congress and Communist Party of India-Marxist to visit the campus. Congress leaders Subrata Mukherjee and Nirbed Roy made common cause with the workers, criticising the 'intransigent role' of the VC. And, Mamata Banerjee shot off letters to the prime minister and Human Resource Development Minister Kapil Sibal, asking for their interventions.

Even the CPI-M MP from Bolpur (Santiniketan comes under it), Ramchandra Dom, sent a letter to the Prime Minister's Office, seeking his intervention.


Ray was in New Delhi to meet Dr Singh to tell him how things have come to such a pass. He also met Finance Minister Pranab Mukherjee. He has already met West Bengal Governor Gopalkrishna Gandhi, who is also Rector of the university.

The VC has gone on to say that the agitations have their genesis in the recent moves initiated by him for reform, which in turn stirred up the "hornet's nest" in the university. The main charges against the VC are of alleged corruption, financial mismanagement and misappropriation of funds, and nepotism in recruitment.

A cursory examination of the charges as elaborated in a 10-page letter to the prime minister suggests that the most important relate to the alleged mismanagement of funds and grants.


The workers' union and the teachers association have written the letter jointly. For the past several months, Rajat Kanta Ray has been ill and the university is routinely paying for his treatment. The employees, in their letter to the prime minister, have claimed that the university has "had to bear the burden of the huge medical bill."

The insensitivity of the letter is only indicative of the extent of deterioration of the relations between the VC and the university community.