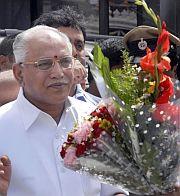 Initiating the first move towards breaking the political logjam paralysing the state government, Karnataka Chief Minister B S Yeddyurappa on Friday transferred his Principal Secretary V P Baligar. 
Baligar has been posted as the Principal Secretary of the Industries Department and I S N Prasad replaces him as Secretary to the chief minister, official sources said. 
As part of a compromise formula offered by him to placate Tourism Minister G Janardhana Reddy and Revenue Minister G Karunakara Reddy, the chief minister ordered Baligar's transfer.
Baligar was transferred as the Reddy faction believed that he interfered too much in policy matters and was acting as a barrier between the CM and the legislators.
However, the Reddy faction made it clear that they will not alter their rebellious stance over such minor changes.
Janardhan Reddy, who is leading the Reddy faction, said that they will not settle for anything less than a leadership change, and talks were going on with the party high command regarding the same.
"We are holding talks and will convince the high command about the need for a leadership change," he said.
In spite of Yeddyurappa's assurances about the crisis being resolved by today evening, talks between the party top brass and rebel leaders seem to have failed, as the Reddy brothers refused to meet the CM to discuss the issue.
The Reddy faction has categorically stated that they will not meet the CM since they did not find the need to do so.
According to party sources, Yeddyurappa also met senior Bharatiya Janata Party leader Murli Manohar Joshi in Delhi and apprised him of the developments.  
Earlier in the day, Yeddyurappa told reporters, "Any important issue, whatever our all India leaders direct me, I am bound to do it. I have already agreed"..
He was asked whether he is ready to sacrifice ministers and transfer bureaucrats as demanded by the Reddy brothers who are heading the dissidents in the state.
Yeddyurappa also ruled out any leadership change in the state. Under a reported compromise formula in the making, Rural Development Minister Shobha Karandlaje, considered close to the chief minister, may be axed and assembly Speaker Jagdish Shettar may be inducted into the cabinet.
When asked about the delay in resolving the issue, he said, "That was inevitable in politics".
Replying to a query on whether he would work with the Reddy brothers after they openly revolted against him, the Karnataka CM said, "After a settlement is reached, one should forget the past and work together".
With inputs from PTI