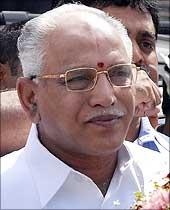 Crisis in the Karnataka unit of the Bharatiya Janata Party continued on Tuesday with dissidents remaining firm on their demand for the removal of Chief Minister B S Yuddyurappa.
The dissenting Reddy brothers, Janardhan and Somashekhar, made it clear that they will not backtrack from their demand for the Karnataka CM's ouster.
Janardhan Reddy, who is meeting with the BJP's top leadership in Delhi, said that he had met senior leader Sushma Swaraj over the issue. However, the BJP has made it clear that Yeddyurappa will not be removed from his post.
Somashekar Reddy, who called a press conference in Bengaluru, took journalists by surprise when he declared that he wanted to speak about the ongoing developmental works in Karnataka. "Enough of politics for now, let us concentrate on developmental works," he said.
However, he did answer a couple of queries about the Reddy brothers' feud with the CM.
When asked whether he and his supporters would resign if the state leadership was not changed, Somashekar replied, "Matters are not so bad as yet and that time has not yet come."
Sounding conciliatory, Yeddyurappa on Tuesday tried to reach out to the Reddy brothers by recalling their contribution during government formation in May last year, when the BJP fell short of a simple majority and independents were roped in to back the government.
"Today, with all humility, I want to tell you something. It's true that in some bad moment, some political confusion had taken place. When we were forming the government, we needed the cooperation of the Reddy brothers and they gave us the cooperation," he told reporters in Bellary, the Reddy brothers' bastion.
"Thereafter, because of some misunderstanding, there is some confusion. The party's central leadership is correcting this and they have spoken to them (Reddy brothers) on Monday. The problem is being resolved with (senior party leader) Ananath Kumar in the lead," he said.
Additional inputs from PTI