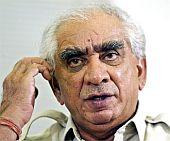 Ruling out the possibility of returning to the Bharatiya Janata Party or joining any other party, expelled leader Jaswant Singh on Monday said the ideology of the saffron outfit has "become narrow".
"There is no point in returning to the party which expelled me... the BJP's ideology has become narrow...  if the party wants to rise and stand big, it will have to change its attitude," Singh told mediapersons.
"I do not harbour any ambition or plan to join any other political party," Singh, who was in Patna to release the Urdu translation of his book 'Jinnah, Partition and Independence', said.
Justifying his comments on Jinnah, Singh said he would not change his stand and would keep on trying to bridge the gap between Hindus and Muslims.
On the reported pressure on him to step down as chairman of the Public Accounts Committee of the Lok Sabha, he said, "The post I occupy has not been bestowed upon me as dowry by BJP... a member of the house is eligible to keep the post."
Jaswant also ruled out seeking elections afresh from Darjeeling from where he was elected to the Lok Sabha on a BJP ticket in May last, just three months before his expulsion from the party. However, he said he did not plan to quit electoral politics and he was serving Darjeeling.
On the Gujarat riots, Singh reiterated that former Prime Minister Atal Bihari Vajpayee was in favour of change of leadership in the state.
"I apprised Advani about this matter who suggested me to keep mum as raking such controversial issue might lead to political turmoil," he said.
The former external affairs minister again justified the stand on exchange of terrorists for saving the passengers aboard the Boeing in Kandahar.
"Handing over two or three terrorists for protecting innocent 161 passengers aboard a plane should not be taken as a blunder... and I am not going to regret it," Singh said.
On the issues in which he had differences of opinions when he was in the BJP, Singh said he had strongly disfavoured L K Advani's ratha yatra, besides opposing the move to forge an alliance with Shiv Sena in Maharashtra.
"But unfortunately, I failed to succeed on these issue", he added.
Jaswant also denied of having revolted against the BJP leadership that might have led to his exit. "I had not not risen in any form of rebellion... I do not even think on those lines," Singh said.
Asked to specify the "real culprit" for those instrumental for his exit from the BJP, Singh said the process of identifying the person was on.
On predicting the future of the BJP, Jaswant said, "It is now upto you to put the questions before the BJP leaders... I am now out of all these things."
Jaswant also denied of having revolted against the BJP leadership that might have led to his exit. "I had not risen in any form of rebellion... I do not even think on those lines", Singh said.
Asked to comment on the future of Bihar under the leadership of the Nitish Kumar government, Singh shot back, "The future of the state is in your hand and I have nothing to comment."
"What I can say at this stage is that I have spent my precious 42 years of life in politics and the BJP has virtually done a great favour to me by removing me from the party... I don't have any thirst for power or post, but I believe that I have to do something else in my life at this stage before taking a decision on electoral politics." he added.
He spoke on the current activity he was busy with. "There is a manch raised under the leadership of independent Member of Parliament and former external affairs minister Digvijay Singh... and I am trying to make and test the efficiency of the forum in raising the issues concerning the people of India," he said.
"I want to build up a constituency of peace and togetherness among the nations bifurcated from India and there should be an approach to ease the difficulties in the movement of people freely from one country to another," he said pointing out that the present system of securing visa for stay in Pakistan was "quite troublesome".
When asked to compare between the political ideology of the BJP and Congress, Singh said, "The analysis has to be done by mediamen and not me."
Image: Former BJP leader Jaswant Singh