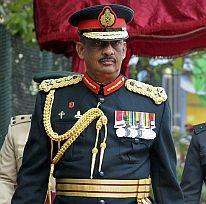 Sri Lankan Army General Sarath Fonseka, who presided over the military offensive on the Liberation Tigers of Tamil Eelam, has been asked by the United States authorities to testify before them against Lankan Defence Secretary Gotabhaya Rajapakse over allegations of widespread human rights abuse during the war.
The US Chief of Defence Staff has told the Sri Lankan government that he has been asked to give evidence against Gotabhaya, brother of Lankan President Mahinda Rajapaksa, a media report said today.
The US Department of State had recently submitted to the Congress a report on the incidents during the recent conflict, prepared by its war crimes office.
"Fonseka has written to Sri Lankan Mission in Washington saying he has been asked by US officials to give evidence against Gotabhaya over alleged human rights abuses," the Daily Mirror online said quoting a highly placed diplomatic source.
It said Fonseka, currently in the US in connection with renewal of his green card, was reportedly contacted by two US officials on his son-in-law's telephone, 'prompting fears in Colombo that Washington is asserting its legal authority over the war crimes report released last week.'
Official sources in Colombo told PTI that 'this matter is being discussed at a higher level. We have no comments at this point of time.'
The Sunday Times, meanwhile, reported that Fonseka has been told to face a 'voluntary meeting' with the Department of Homeland Security and that officials want to interview him on Wednesday.
"Reports reaching the highest levels of the Lankan government say US Department of Homeland Security officials want to interview him on Wednesday (November 4) in Tulsa, Oklahoma," The Sunday Times said.
Lankan President Mahinda Rajapaksa last week announced that an independent committee to comprehensively examine and provide recommendations on the report would be constituted.
General Fonseka, who is a US Green Card holder, has a residence in Oklahoma.
Sri Lanka's ambassador to US also mobilised lawyers from Patton Boggs, the law firm hired by the mission for lobbying and promotional work, to fly to Tulsa, the paper said quoting highly-placed government sources in Colombo.
The 68-page US State Department report contains details of alleged 'atrocities' by both the military and LTTE during the final stages of the war in May this year. The report prepared by the War Crimes office in the State Department lists 170 allegations between May 2 and 18.
Image: Sri Lankan Army chief Sarath Fonseka
Photograph: Reuters