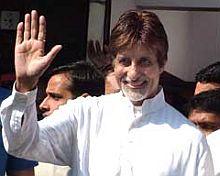 A five-member committee constituted by the Barabanki district administration has given a clean chit to Bollywood star Amitabh Bachchan in a case of alleged land forgery.
The committee, headed by a sub-divisional magistrate, in its report submitted on Saturday, turned down the charges of forgery against Bachchan following which a complaint lodged by son of the Daulatpur village head was quashed, Superintendent of Police Alok Singh said on Sunday.
The committee, constituted by District Magistrate Vikas Gothwal, in its report said Bachchan had only proposed to donate two plots in Daulatpur village to the gram samaj.
"As the process to donate plots to the gram sabha was not completed, it cannot be proved that plot numbers 711 and 793 were to be transferred to the gram samaj," the report said.
As the village head gave her consent to take the land in donation without the approval of land management committee of the district administration, the entire process was 'null and void,' it said.
"The committee in its inquiry found that the allegation of fraud against Bachchan was baseless," a senior official said. Two days after the complaint was lodged against 67-year-old Bachchan on October 27, his former representative Vinay Shukla had said the land to be donated to the gram sabha was by 'mistake' included in the gift deed towards a foundation for construction of a college named after his daughter-in-law Aishwarya.
Shukla had said on coming to know of the mistake, Nishtha Foundation, on the request of the actor, had made a formal request to the district administration to do the needful but Avnindra Singh, son of Daulatpur village gram pradhan, Rajkumari Singh, lodged a complaint with the police.
On October 23, Bachchan through his representative had transferred 16 bigha land at Daulatpur village to the foundation run by Bollywood actress Jaya Prada for construction of a girls college.
Later, the DM constituted the committee to inquire into the allegation. In the meantime, Nishtha Foundation had returned the two plots to Bachchan after which filmstar's representative Rajesh Rishikesh Yadav submitted a letter to the DM stating the superstar wished to donate both the plots to gram sabha as proposed by him earlier by completing all the legal formalities.