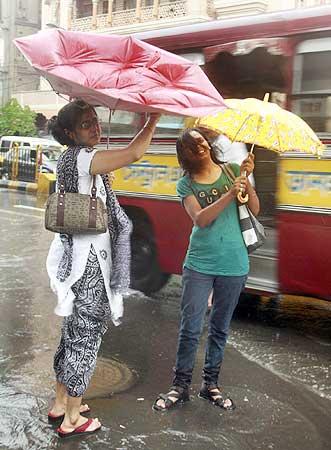 Cyclone Aila spawned from a deep depression in the Bay of Bengal to hit West Bengal today, leaving 21 people dead and a population of 1.10 lakh affected, before gradually weakening.
The highest number of 14 deaths, according to official sources, was reported from South 24 Parganas district, followed by five in the metropolis and one each in Bankura and Howrah districts.
"The cyclone, now lying stationery 50 km west of Kolkata, hit the West Bengal coast at 1.30 pm near Sagar Island. It is moving in a northerly direction and will weaken gradually," Regional Meteorological Centre Director G C Debnath told PTI.
"Rains, however, will continue throughout tomorrow," he said.
A severe storm with a wind speed of 110 kmph accompanied by heavy rainfall preceded the cyclone ripping through Kolkata, North and South 24 Parganas, Howrah, Hooghly, Burdwan and East Midnapore districts at 110 kmph.
Unofficial reports, however, put the toll at 26 and the number of affected at over two lakh.
EARLIER REPORT
Life in Kolkata came to a standstill even before Cyclone Aila hit on Monday, killing 17, including a woman, and injuring many. High-velocity winds and heavy rains lashed the coastal areas of the state from Monday morning. All flights, including international ones, at the NSC Bose International Airport were suspended from 1400 hours, airport sources said.
"Three people were killed and many injured," Kolkata Police Commissioner Goutam Mohan Chakraborty told rediff.com.
Unofficial reports, however, indicate that five people have been killed in the metropolis and four in the district.
Two incidents of electrocution have been reported from South 24 Parganas.  Part of Greater Kolkata's posh residential area, Salt Lake City, has virtually been cut off from the rest of Kolkata as uprooted trees blocked almost all the roads connecting it to the city. Reports of inundation and devastation are pouring in from various districts of West Bengal.
The army, Border Security Force and Police have begun rescue operations in Sunderbans in the coastal South 24 Parganas district.  Uprooted trees blocked roads at 32 places in Kolkata leading to massive traffic jams. Tram cars have come to a halt as power supply to overhead lines have been switched off.
According to meteorological reports, the storm may reach speeds of 100-120 kilometres per hour. The cyclonic distirbance is centred 30 km south-east of Kolkata. Fishermen have been asked not to venture into the sea. High alert has been sounded all over Kolkata and West Bengal.
Finance Minister Ashim Dasgupta said that precautionary measures have been taken with people being moved to safer places. The situation is being closely monitored, he said. Meanwhile, leave of government employees has been cancelled in North and South 24 Parganas, East Midnapore districts and Kolkata.
A control room has been set up at the state secretariat, Writers' Buildings. The Kolkata Police directed all schools to close by 1400 hrs. Deputy Police Commissioner in-charge of Headquarters, Jawed Shamim, said "quick response teams, RAF and all police stations have been put on alert." South Bengal districts are likely to witness heavy to very heavy rains till tomorrow, Debnath said adding that North Bengal districts may also experience heavy rains in the next two days.

Additional Inputs: PTI
Image: Women struggle with their umbrellas against a strong wind and rain in Kolkata.
Photograph: Jayanta Shaw/Reuters