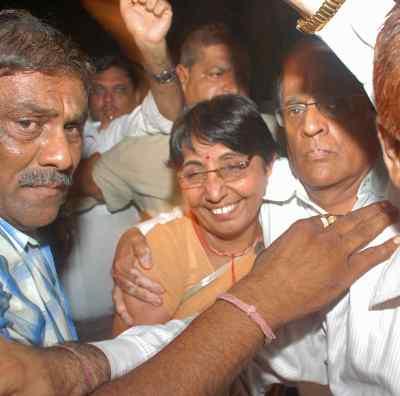 After remaining in jail for eight weeks, former Gujarat minister Maya Kodnani was on Tuesday granted bail by a local court in two post-Godhra 2002 riot cases where she also faced murder charges, with the judge saying her alleged involvement was shown late.
Kodnani is an accused in the Naroda Gam and Naroda Patiya case. Vishwa Hindu Parishad leader Jaideep Patel, another key accused in the Naroda Gam case behind bars, was also granted bail.
Both the leaders are accused of instigating and being present in the mob that killed 106 people of the minority community on February 28, 2002.
Sessions Judge C H Patel, hearing the bail plea of the two leaders, observed that the involvement of the duo was shown late (after nearly six years of the incident).

The court said the presence of Kodnani and Patel is not clearly established by the statement of the witnesses and gave them reprieve.
Kodnani and Patel were in jail since March 27 after the Gujarat High Court cancelled their anticipatory bail, following which the two had courted arrested. Their names cropped up during investigation by the Supreme Court-appointed Special Investigation Team probing some of the riot cases.
Kodnani's lawyer Mitesh Amin told the court that Maya should be given bail on grounds of inconsistency in the statement of witnesses, parity and health condition.
But the special public prosecutor H M Dhruv submitted that Kodnani and Patel should not be granted bail, as they were both influential leaders.
Image: Maya Kodnani after she was released from the jail in Ahmedabad on Tuesday | Photograph: Mayur D Bhatt