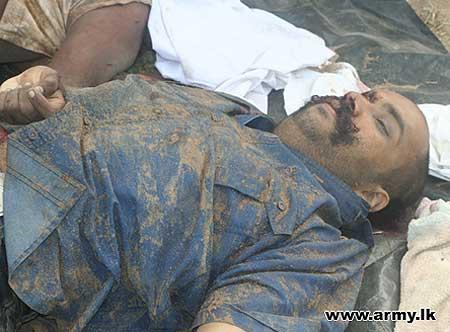 Closing in on the last foothold of the Lankan Tigers of Tamil Eelam, Sri Lankan special forces on Monday killed seven top rebel leaders, including Charles Anthony, son of Tamil Tigers chief Velupillai Prabhakaran whose fate is still unknown.
The army believes that its special forces have encircled Prabhakaran, Tigers' intelligence head Pottu Amman and Sea Tigers' chief Soosoi, who are boxed into a 100m x 100m area, north of Vellamullivaikkal and that they would be ringed in soon.
The body of the 24-year-old Anthony, chief of the LTTE's air wing, was found during mop-up operations in the last rebel-held territory in the no-fire zone on Monday morning, the defence ministry said.
The bodies of LTTE's political head B Nadesan, LTTE peace secretariat chief Pulidevan and Tigers' special forces military leader Ramesh were found in the war zone, it said.
Troops also recovered the bodies of Tigers police wing chief Ilango along with senior rebel leaders Sundaram and Kapil Amman.
However, there was no word on the fate of the outfit's chief Prabhakaran about whose death there have been a lot of speculative reports in the last two days.
The death of the top LTTE leaders came a day after the Tamil Tigers conceded defeat saying the decades-old battle has reached its "bitter end" and they have decided to "silence" their guns.
According to defence sources, Anthony's body was found after an unsuccessful attempt by the Tamil Tigers to evacuate him early on Monday.
Brigadier Udaya Nanayakkara said some rebels continued to offer resistance as the troops conducted "mopping-up operations" in the area.
Anthony was known head the LTTE's information and technology department. It is believed that Prabhakaran was compelled to recruit his son into the outfit to avoid criticism over his hypocrisy.
The LTTE leader was often criticised for sending thousands of children to war while giving a luxurious life and the best of education to his own children.
Anthony was injured in March while fighting the security forces alongside other prominent LTTE leaders like Banu and Lakshman.
Prabhakaran named his eldest son after Charles Anthony, a close and loyal confidant who was killed in a confrontation with the Sri Lankan army in the early 1980s.
Prabhakaran's son, who returned from Ireland in 2006, was believed to have got a degree in aeronautical engineering.
Confronting the LTTE fighters who tried to escape, the army early on Sunday killed 70 Tiger rebels and destroyed six boats, the military said.
Image: The body of LTTE chief Prabhakaran's son Charles Anthony. Photograph Courtesy: Sri Lanka Army