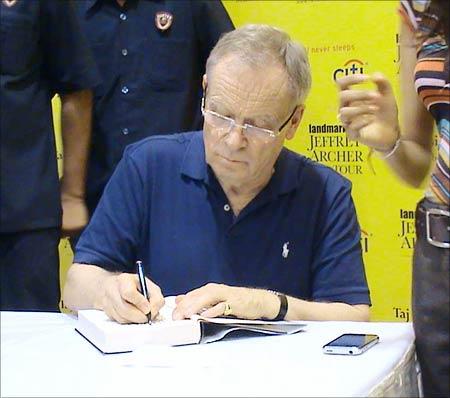 Last night in Andheri, suburban Mumbai, famed fiction writer Jeffrey Archer launched his latest novel, Paths of Glory, and gave a special book reading, as part of his five-stop tour of India, called the Jeffrey Archer Landmark Tour.
Paths of Glory is a fictionalised account of mountaineer George Mallory and his dream of being the first person to climb to the summit of Mount Everest. In 1924, Mallory and his climbing partner Andrew Irvine both disappeared during or after completing the final stage of their attempt to make the first ascent of the world's highest mountain.Whether or not he ever reached the pinnacle of Everest is still debated today.
The prolific Archer's prodigious output, which he's sustained throughout a 33-year career, has made him the stuff of legend, particularly so in India. An interesting disclosure made last night is that the author has re-written one of his classic works -- Kane and Abel.
The release is scheduled for October 3.
After informing the crowd of this development, the 69-year-old Archer assured his Indian fans that they were 'the first to hear about it', a symbolic tip of the cap to a country that has always received him warmly. Archer initially thought that re-touching the book would take only a few weeks; but it was only after nine months and countless hours that he found the task adequately finished. Despite all that time spent tweaking and re-crafting, Archer promised last night that he has not changed the plot.
As part of his tour to India, Archer has already been to Chennai -- where his books A Twist in the Tale and Not a Penny More, Not a Penny Less were released in three regional languages: Tamil, Kannada and Malayalam.
Rounding out the tour will be trips to Delhi, Pune and Bangalore, where he will also launch Paths of Glory.
Additionally, Archer is on the look-out for an Indian director and producer to adapt this latest novel to the big screen. One name mentioned has been Rang De Basanti director Rakesh Omprakash Mehra.
Image: Jeffrey Archer signs a copy of Paths to Glory.
Text: Matthew Schneeberger | Photograph: Hitesh Harisinghani