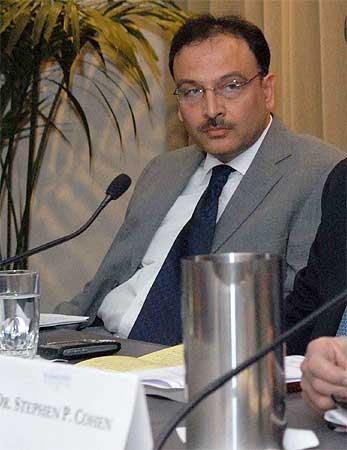 A conference on 'Pakistan's Troubled Frontier: The Future of FATA and the NWFP' organised by The Jamestown Foundation in Washington, DC, witnessed several speakers expressing their concerns about the situation in Pakistan.
The audience comprised Obama administration officials, senior United States Congressional aides, South Asia specialists, scholars and the heads of several think tanks who deal with the region.
The first of a five-part series. Reportage: Aziz Haniffa in Washington, DC.
Mukhtar A Khan, an analyst with the Jamestown Foundation and a Pashtun journalist based in Washington, DC, contended that the Taliban is way ahead in the propaganda war in the North West Frontier Province, thanks to illegal FM radio stations that have "been a boon to Taliban propaganda."
Khan, who is working on a book about militancy on the Pakistan-Afghanistan border and the spillover effect it has had on the rest of the world, said Taliban FM radio stations in Swat, the Federally Administered Tribal Areas and the NWFP have "shaped the local people's thinking."
That's why, he said, the Asif Zardari government in Islamabad had signed a Shariah bill with the Taliban even though Zardari "is a liberal and the Pakistan People's Party is also a liberal party and the Pakistani government is also an ally of the United States."
Khan said Maulana Fazlullah of the Taliban in Swat was referred to as 'FM Mullah' because of his effective use of the radio "to preach to the local people about Shariah."
He said the US and Pakistan "are still using shortwave and medium-wave, but the Taliban is using FM. The US, through the VOA (Voice of America), is still using the (outdated) Cold War broadcasts it used against the Soviets" while "there are now 300 channels in Swat, FATA and the NWFP."
"All these 300 channels are illegal," he said, "but the Pakistani government hasn't been able to do anything about it. Even those that are closed down, they resurface very easily because these are mobile channels and all you need is a transmitter and a car battery."
He pointed out that Washington, DC, Maryland and Virginia combined "don't even have 300 FM stations."
Asked why Islamabad cannot jam illegal channels, Khan said, "The Pakistani government says they don't have the technology. Also, (it says) that jamming could interfere with their own communication systems, which is important for intelligence information."
Jamming the stations, he added, "would lead to much anger among the people of the area, because these are also interactive FM channels and people like it and feel it's their own medium. Pashtun society is a radio society and they consider television un-Islamic. So, you have to communicate with them only by radio."
Image: Mukhtar A Khan at the conference. Photograph: Paresh Gandhi