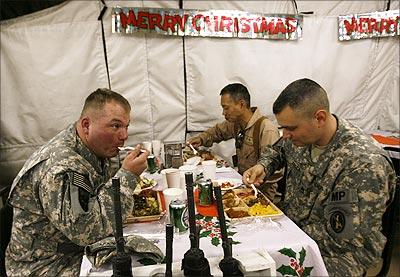 In a startling discovery, Arabic television channel Al Jazeera has found video footage of American soldiers planning to distribute Bible printed in Pashtu and Dari languages, to locals in Afghanisthan.  The books were printed and sent by a church in the US.
US law prohibits soldiers from proselytising, and its is a crime to convert anyone under Afghan law, however the soldiers said they "were allowed to give gifts."
A report on the Huffington Post website, said that the preacher urged soldiers to "hunt people for Jesus".
"The Special Forces guys, they hunt men. Basically, we do the same things as Christians. We hunt people for Jesus. We do, we hunt them down. Get the hound of heaven after them, so we get them into the Kingdom. That's what we do, that's our business," the website quoted the preacher as saying.
A Pentagon spokesman said that no Bibles were actually distributed. "That case involved a soldier who brought in a donation of translated Bibles that were sent to his personal address by his home church. He showed them to the group and the chaplain explained that he cannot distribute them," the spokeperson said.
President George Bush had created an international uproar when he referred to the "war on terror" as a "crusade."
Image: American soldiers at Camp Eggers in Kabul.
Photograph: Reuters