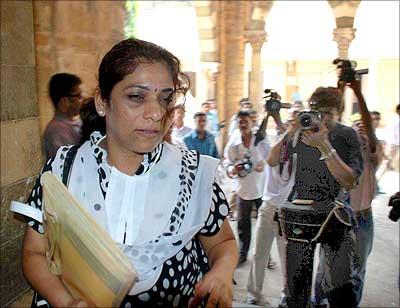 Mohammad Ajmal Amir Kasab, the lone terrorist caught alive in the 26/11 Mumbai terror strikes, was on Monday provided with a lawyer from the state legal aid cell.
The special court appointed Anjali Waghmare (40), a lawyer with the Maharashtra Service Legal Authority, to defend Kasab in the November 26 terror strike, which is likely to begin on April 6 in the high security Arthur Road jail in Mumbai.
When the court introduced Waghmare to Kasab, through video conferencing, he smiled and said 'OK, sir'.
"My name was shortlisted along with 17 other lawyers and I was asked to appear on Monday in the court if I wanted to defend Kasab," Waghmare said.
Refusing to specify reasons for defending Kasab, she said, "I am confident and not scared to defend Kasab as I know my duties as an Indian and towards my fellow citizens."
Requesting media to convey the right message about her to the public, she asked the court to provide her adequate security.
On March 23, Kasab, who had earlier sought consular access from Pakistan, had requested the court to provide a lawyer at the expense of the state, in the absence of a response from Islamabad.

Following the request, the court prepared a panel of 17 lawyers. Of the 17 advocates, Waghmare's name was approved by the judge to appear for Kasab, a resident of Faridkot in Pakistan.
Waghmare, a Law graduate from Symbiosis college in Pune, has been practising since 1996 in both civil and criminal cases.
Waghmare has been working with the state legal aid cell for last ten years and has appeared in several Anti-corruption and MCOCA cases.
She had also briefly appeared for Karimulla, an accused in the 1993 serial bomb blasts case.
Image: Anjali Waghmare | Photograph: Arun Patil