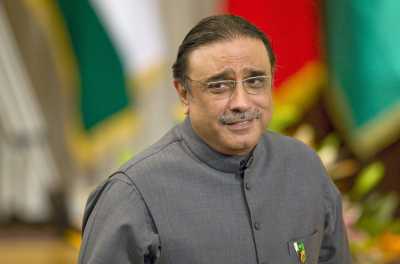 While India is busy bracing itself for the next Lok Sabha polls,  Pakistan is heading to the edge of precipice. 
The world is keeping its fingers crossed as former prime minister Nawaz Sharif is sticking on to his decision to take out a march from Karachi to Sindh, defying the government and apparently the Army.
Emerging reports from Pakistan indicate that Sharif will go ahead with his proposed tour.
Where is Zardari?
The Pakistan government has dismissed reports in a section of media that President Asif Ali Zardari intended to travel to Dubai from Tehran, where he is attending a regional summit.
Presidential spokesperson Farhatullah Babar contradicted media reports about Zardari going to Dubai from Tehran, where he is participating in a summit of the Economic Cooperation Organisation, instead of returning to Islamabad.
"The reports of his staying in Dubai and postponing his return to Islamabad are absolutely false, mischievous and seem deliberately designed to cause confusion," Babar said in a statement.
Zardari is scheduled to return to Pakistan at the end of his two-day visit of Iran, he said. "There is no change in the President's scheduled return to Islamabad," Babar added.
What is the problem?
The ruling Pakistan People's Party, which is headed by Zardari, has been engaged in a tense stand-off with the main opposition PML-N since the Supreme Court last month barred PML-N leaders Nawaz and Shahbaz Sharif from contesting polls and holding elected office. Following the verdict, Zardari imposed Governor's Rule in Punjab province, which was ruled by the PML-N.
Matters came to a head after the PML-N threw its weight behind a "long march" to Islamabad by the lawyers' movement to press for the reinstatement of judges sacked during the 2007 emergency. The march will begin from several places on Thursday. 
No Army take-over: Sharif
Nawaz Sharif has dismissed reports of an Army takeover of the troubled country once again.
Sharif, who has urged the masses to defy a government clampdown and join a nationwide protest, said the "chances of army takeover is absolutely nil".
Imran Khan goes into hiding
Police and security agencies carried out massive raids and arrests of lawyers, political leaders and activists in an overnight swoop, which was still going on. They outlawed demonstrations in the capital as well as in the provinces of Punjab and Sindh, through which the rally is to proceed.
Top Opposition leaders, including Pakistan Muslim League-Nawaz Chairman Raja Zafrul Haq, were put under house arrest. Cricketer-turned-politician Imran Khan [Images], who heads the Tehrik-e-Insaf party, went into hiding to elude the security personnel who went to arrest him. So did the countless other eminent lawyers and political leaders.
Image: Will he fly back to a democratic Pakistan? Zardari at the Economic Cooperation Organization summit in Tehran.
Photograph: Caren Firouz / Reuters