With elections to the 15th Lok Sabha just weeks away, rediff.com's reporters speak to voters across the country to find out what's on their mind. First in the series, Ahmed Basheer, a driver from Hyderabad.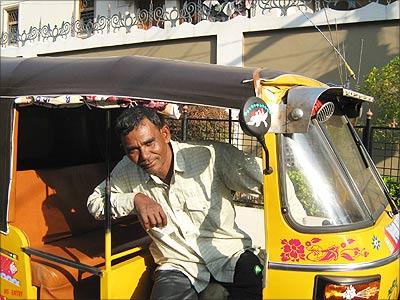 Ahmed Basheer, 57, drives a tourist vehicle, the Toyota Qualis. As that had gone for repairs, he was driving his autorickshaw when rediff.com met him.
"In 1972 I bought my first cyclerickshaw and today I have a couple of rickshaws and a Qualis. I am worth Rs 90 lakh and yet I earn my daily bread, I am not lazy, though my two sons have started earning. One is an auto mechanic and the other is a painter," he says with pride.
"I am an illiterate but my children did enough schooling to make a living. Even if I have a lakh in the bank I will make sure I earn Rs 100 every day," he added. 
"In Hyderabad, tourist cabs and autos do good business. NTR (former chief minister N T Rama Rao) was good for the state. Chandrababu Naidu did a lot of development work but now he won't win an election. In the last elections, Y S Rajasekhara Reddy won the hearts of the people. In the next elections it will be the Praja Rajyam Party, Chiranjeevi will win," Basheer says with the confidence of a poll pundit.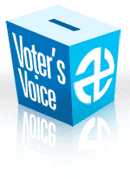 And then he adds for good measure: "NTR was a film-star and he won the first time. Chiranjeevi too will win for that reason. You should see the crowds at his rallies!"
"Everyone needs permutations and combinations to stay in power. Both the Congress and the Bharatiya Janata Party will have to depend on their allies to form a government. Here I don't know who they will catch because everyone thinks they are strong. Maybe they will join hands after the elections.
"These days you cannot predict victory. There are so many parties and so many factors. Money is the biggest factor to win," Basheer says.
About the hot topic of Telangana state, Basheer says, "Telengana is an issue for the politicians. People know that politicians benefit when states are divided. We will have more ministers and more chief ministers. It won't help the people.  Actually it makes no difference to the people. We have to work to eat and for our needs."
What does he think of politics at the national level? "Manmohan Singh is the best prime minister at present. He knows how to keep the allies happy. His agricultural loan waver and rural employment scheme will go in his favour. Plus he is a good man."
"The issues facing the nation are price rise and diesel shortage. The ruling party will lose because of these two problems. Why can't they reduce the price of diesel? They are greedy," he offers.
"Can you see that huge statue of Buddha in the middle of Husain Sagar lake (in Hyderabad)? That is the symbol of NTR. This was the first thing he did after coming to power. People think of him when they see this." Left unsaid is that no one since has left anything lasting behind.
Text and photograph: A Ganesh Nadar