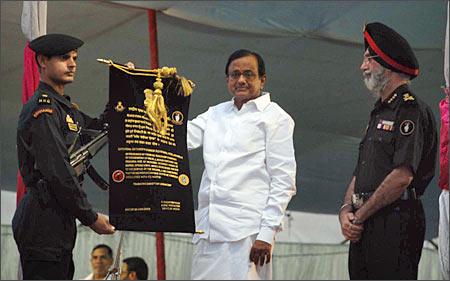 Inaugurating the first National Security Guards hub in Mumbai, the Union Home Minister P Chidambaram on Tuesday promised the people to set up all the proposed NSG hubs by the deadline of July 1.
"We are happy that the first of the four hubs has been inaugurated and the remaining three will be operational from tomorrow," Chidambaram said while inaugurating the NSG hub at suburban Kalina in Mumbai.
The other three hubs are in Chennai, Kolkata and Hyderabad.
"I am very happy that I have kept the promise. This will increase confidence of the people of the country that they are secured," the Home Minister said.
The NSG is specially trained agency, whose principal aims are anti-terror, anti-hijack and rescue operations. "I am sure that NSG Mumbai hub will live up to its expectation," the minister said.
The 23-acre NSG campus in Marol at suburban Andheri will be ready by November 2009 and until then, the NSG will be using the Kalina campus of Mumbai police.
Around 250 NSG commandos will be stationed in Mumbai and 1,080 will be deployed all over the four hubs. The setting up of NSG hubs will decrease the response time of the agency in the time of emergency.
During the 26/11 terror attacks, it took longer for NSG units to arrive in Mumbai as they had to be summoned from Delhi.
The Home Minister said 1,080 men have been recruited for these hubs and more were being inducted as two additional regional centres of NSG were being set up at Jodhpur and Guwahati.
Chidambaram denied that army was reluctant in sending its officers to NSG. Asked who would be the first respondent in case of a terror strike, he said, "It has to be the state police. But if the situation involves terror strike or anti-hijack operations, the state government may seek help of the NSG teams as they were specially trained to handle such situations."
To a question whether 23 acre land was sufficient for setting up of the hub, Chidambaram said, "We all should learn to use the land economically."
The hub at Chennai is built on a 85-acre plot in Nedunkundram, while in Hyderabad it is located on a 22-acre plot at Trimulghery.
In Kolkata it is situated on a 20-acre plot at Badu. Pre-fabricated and permanent structures have been constructed by the National Building Construction Corporation Limited to station NSG commandos at these hubs.
The state governments, Airport Authority of India and the army have been involved in the process of establishing these units. Commandos drawn from the army and paramilitary force will man these hubs.
Image: Union Home Minister P Chidambaram inaugurates Mumbai's first NSG hub on Tuesday
Text: PTI     Photograph: Sahil Salvi