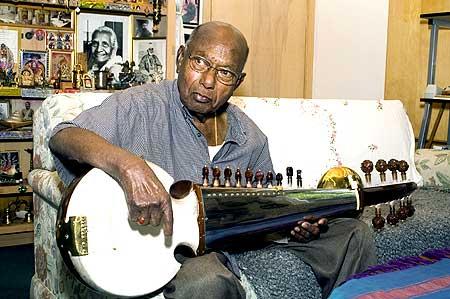 Sarod maestro Ustad Ali Akbar Khan passed away in San Francisco in the US after a prolonged kidney ailment, according to a family friend in Kolkata. 88-year-old Khan died at his music centre at 10 am IST, Rabin Pal, the secretary of sitarist Pandit Ravi Shankar,said. 

The Sarod maestro is survived by wife Mary, three sons and daughter. Pal, a family friend of the sarod maestro, said that he was informed about the death of Khan by the Ustad's family in San Francisco. Khan's secretary in Kolkata Ashish Roy said the maestro, who was on dialysis, had been ailing for over four years and his condition had deteriorated in the last four months.

A recipient of Padma Bhushan and Padma Vibhushan, Khan was a colossus in the world of Indian classical music for the last five decades.
One of the most accomplished of Indian musicians in the Classical tradition, Ustad Ali Akbar Khan has been designated a 'Living National Treasure' in India - not to mention the fact that he is the object of much admiration in the rest of the world for his absolute mastery of the 25-stringed sarod.
Hailed by violinist Yehudi Menuhin as 'the greatest musician in the world', Sarod maestro Ali Akbar Khan had many a first to his credit in taking Indian classical music to the West. 88-year-old Khan, who had settled down in San Francisco in the US, was admired by both Eastern as well as Western musicians for his brilliant compositions and his mastery of the 25-string instrument. The illustrious son of Ustad Alauddin Khan, he was once described by Menuhin as 'the greatest musician in the world'. 

Khan was the first to cut a long player record of Indian classical music in the US and to give a sarod recital on American TV. Khan was also the first Indian musician to receive the MacArthur Foundation Fellowship in 1991 and was nominated for Grammy Awards five times between 1970 to 1998. Born on April 14, 1922 in Shibpur village of Comilla district, now in Bangladesh, Khan took up music at the age of three, learning vocal music from his father and percussion from his uncle, Fakir Aftabuddin. His father also trained him in several other instruments, but Khan decided to concentrate on the sarodand on vocals. A recipient of Padma Vibhushan and Padma Bhushan, Khan gave his first public performance in Allahabad at the age 13 and made his first gramophone recording in Lucknow when he was in his early twenties.
Image: File photo of Sarod player Ustad Ali Akbar Khan at his home in San Anselmo, California
Photograph: Adam Tanner/Reuters
© Copyright 2022 PTI. All rights reserved. Republication or redistribution of PTI content, including by framing or similar means, is expressly prohibited without the prior written consent.