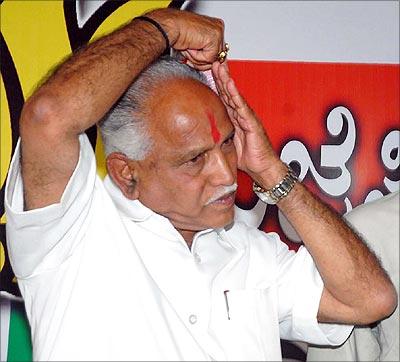 It's one year since the first Bharatiya Janata Party government assumed office in South India.
At a grand rally in Bangalore to commemorate the completion of a year in office, B S Yeddyurappa listed out achievements as the chief minister and also clarified on various aspects, including Operation Lotus, for which the party had drawn flak from the Opposition. Funnily enough, the chief minister also clarified as to why he hardly EVER smiled and kept a grim face always.
Ever since the BJP assumed office a year ago in Karnataka, it has seen a lot of ups and downs. Barely a few months after assuming office, the government was shaken up with the fertilizer crisis, leading to a farmer's death in police firing.
After that incident there have been a number of controversies that the government had to deal with which included the Church attacks and the attack on women in a pub -- both in Mangalore. During this period, the BJP was also criticized for undertaking Operation Lotus in which the party poached MLAs from both the Congress and the Janata Dal (S).
BJP leaders say that their opponents thought that all these incidents would spell doom for the BJP and the Lok Sabha polls would be a report card for the party.
However, the BJP managed to better its standing in Karnataka as compared to the 2004 polls. The party had the best showing in the state of Karnataka where it won 19 seats as compared to the 18 in the previous general elections.
However, B S Yeddyurappa said that all that was in the past and it was time to move on and do more work now. "I can assure the people of Karnataka with my blood that I would never betray them and would work for them."
On Operation Lotus, the chief minister looked as though he was justifying those actions and said that there would have not been any need for such an operation had the party won 120 seats in the Assembly election instead of 110. Proclaiming that he was a champion of the downtrodden in state, the chief minister also handed out title deeds to around 9000 slum dewellers and promised houses to 22,000 people in the state.
While many see the chief minister as a straight forward man, there have been complaints regarding Yeddyurappa's grim face.
The chief minister gave a perfect political reply to this allegation and said that he is not the kind of person who is satisfied easily and he did not feel like smiling when there was so much poverty around. The chief minister also spoke about a better relationship with the Centre and said that he did not have an ego.
"I can go to the doorstep of any person if it meant that it would benefit my state and people," says he.