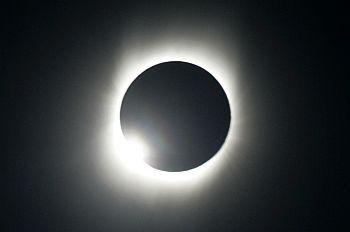 Thousands of skywatchers burst into an applause as darkness descended soon after sunrise as the moon came in between the earth and the sun during the total solar eclipse on Wednesday morning.
Astronomers, who had gathered in Dibrugarh in Assam, witnessed the total eclipse between 6:31 am and 6:34 am
Share your eclipse moments with us!
However, their counterparts in Taregna in Bihar, touted as the best location to watch the longest eclipse in a century were not so fortunate as clouds played spoilsport blanking out the early morning sun.

The celestial spectacle began at 5:45 am and most parts of the country woke up to see an eclipsed sun as the moon passed between the earth and the sun. It ended at 7.24 am.
In Delhi, clouds played hide-and-seek but still astro-enthusiasts gathered at several places got a glimpse of the sun. Eighty-three per cent of the sun dial was obscured by the moon.
The crescent sun smiled upon the capital when the eclipse reached its maximum of 83 per cent at 6:26 am.
 It's not just the eclipse that's drawing interest
Several skywatchers watched the celestial spectacle from Nehru Planetarium where special arrangements were made. Projectors, telescopes and special solar view goggles were made available to the people who gathered to have a glimpse of the cosmic event.

Image: The moon passes between the sun and the earth during a total solar eclipse in Varanasi
Photograph: Jayanta Shaw/Reuters