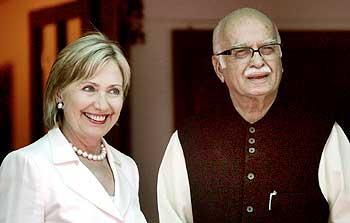 Leader of opposition and senior Bharatiya Janata Party leader L K Advani raised the issue of the joint statement between Prime Minister Manmohan Singh and his Pakistani counterpart Gilani, during his 45-minute-long meeting with United States Secretary of State Hillary Clinton, at his residence on Monday.
"During his meeting, he (Advani) recalled how as the Union home minister, he dealt with the Pakistan issue when the terrorists used Pakistani soil against Indians," party leader Sushma Swaraj told mediapersons after the two leaders met.
"Advani told Hillary Clinton that the joint statement issued in Egypt during PM Singh's visit to the NAM Summit, was nothing short of a breach of trust. After the 26/11 attack on Mumbai, it was decided that no talks would be held with Pakistan, yet our PM talked of a composite dialogue with them," Swaraj said.

Strangely, the former deputy prime minister, who had been harping on the anti-nuclear agreement and the Comprehensive Test Ban Treaty, did not find time to mention them during his interaction with Hillary.
He told the visiting dignitary that India had previously made two major efforts to have peace with Pakistan.


First when the former prime minister Vajpayee took a bus to Lahore, and second was when India invited then Pakistani premier Pervez Musharraf, even after the Kargil war.
When asked to comment on Advani's meeting with Hillary, Congress spokesperson Abhishek Singhvi said he had nothing more to say on the the statement made by the PM Singh on Pakistan.
"If anyone wants more clarification, kindly contact the government," he said.
Text: Onkar Singh in New Delhi
Image: US Secretary of State Hillary Clinton and senior Bharatiya Janata Party leader Lal Krishna Advani smile before their meeting in New Delhi on Monday.      
Photograph:  B Mathur / Reuters