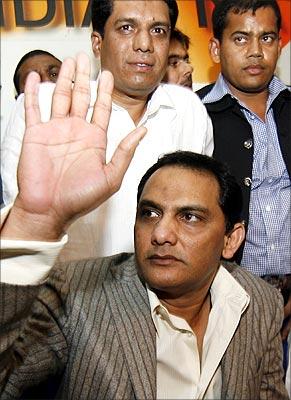 Cricketer turned politician and newly elected Congress' Member of Parliament from Moradabad constituency Mohammad Azaruddin, hit the first six of his political career when he was allowed by speaker Meira Kumar to make his maiden speech in the Parliament.
The former captain of India said that he was not good at speaking, would leave that job for fellow cricketer and Bharatiya Janata Party MP Navjot Singh Sidhu.
"I thank Sonia Gandhi (United Progressive Alliance chairperson) and Rahul (Congress general secretary) for giving me this opportunity to represent the people of Moradabad," Azhar also said.

"I compliment Union finance minister for presenting a budget for the aam adami and particularly the minority community like ours. I would request the finance minister to do something for the brass-city of Moradabad, which is also a victim of ongoing recession, so that jobs are found for youth and they do not go astray. I would ask him to introduce a Bima Yojana (insurance plan) for the artisans and provide educational loans," he said.

As an accomplished sportsman himself, Azhar also congratulated Union minister for youth and sports, M S Gill, for bringing the Commonwealth games to India, as it would provide an opportunity to the sportsmen of the country to show their skills.
Text: Onkar Singh in New Delhi
Image: Mohammad Azharuddin waves before addressing mediapersons inside Congress' party headquarters in New Delhi on February 19, 2009
Photograph: Adnan Abidi/Reuters