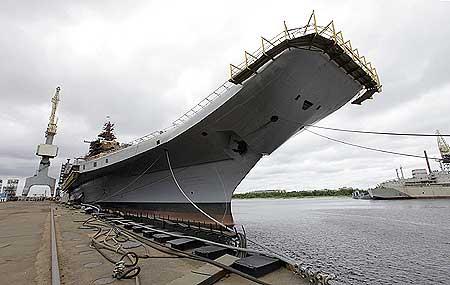 Indian Navy will take possession of the refurbished aircraft carrier, Admiral Gorshkov, in 2012.
Russian President Dmitry Medvedev has said that modernisation process of the 44,570-ton aircraft carrier will be completed as soon as possible so that it can be delivered to India in 2012.
India and Russia have yet to agree on the cost of overhauling the Admiral Gorshkov for the Indian Navy to be renamed Vikramaditya, RIA Novosti reports.
Under the original $1.5 billion 2004 contract between Russia's state-run arms exporter Rosoboronexport and the Indian Navy, which includes delivery of MiG-29K fighters, the work on the aircraft carrier was to have been completed in 2008.
However, Russia later claimed it had underestimated the scale and the cost of the modernisation, and asked for an additional $1.4 billion, which New Delhi said was 'exorbitant'.
Indian officials familiar with negotiations said the eventual figure would be closer to the $2.2 billion estimate. The aircraft carrier, re-christened as INS Vikramaditya, is currently docked at the Sevmash shipyard in northern Russia, with over 2,000 workers employed on the project.

Image: Admiral Gorshkov, the Soviet-era aircraft carrier bought by India, is anchored at the Sevmash factory in the northern city of Severodvinsk.
Photograph: Alexander Zemlianichenko/Pool/Reuters