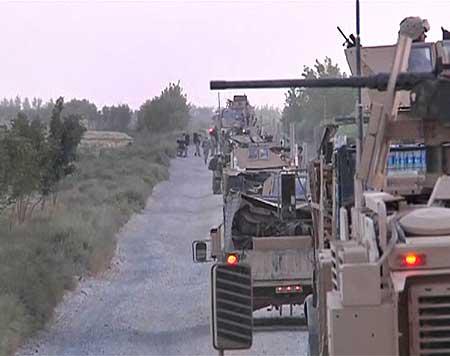 Almost 4,000 United States Marines, backed by helicopter gun ships, are attempting to regain control of the volatile Helmand River valley in southwestern Afghanistan, which currently is occupied by the Taliban.
The valley is known for its poppy harvests and opium smuggling.
According to a New York Times report, the Marine Expeditionary Brigade is leading the operation, which has been described as the first major push in southern Afghanistan by the newly bolstered American force.
Helmand is one of the deadliest provinces in Afghanistan, where Taliban fighters have practiced sleek, hit-and-run guerrilla warfare against the British forces based there.
US Marine sources said  'Operation Khanjar', will include more troops and resources than ever before, as well as a commitment by the troops to live and patrol near population centers to ensure that residents are protected.
More than 600 Afghan soldiers and police officers are also involved.
The Marines will be pushing into areas where NATO and Afghan troops have not previously established a permanent presence. As part of the counterinsurgency strategy, the troops will meet with local leaders, help determine their needs and take a variety of actions to make towns and villages more secure.
Image: A convoy of US army trucks in Taliban-held territory advances in the lower Helmand river valley.
Photograph: Reuters TV