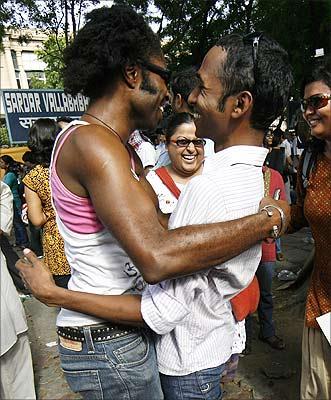 Gay rights activists hugged, kissed and patted each other in ecstasy and tears rolled down their cheeks on hearing the Delhi High Court verdict legalising homosexuality among consenting adults.
"The judgement is unbelievable. We sought freedom to live life which the court granted today. We do not want to lie to our family members as this is an instinct," said Anu, one of the gay activists present in the courtroom when the verdict was pronounced.
"Gay sex is not a criminal act. The society should accept the relationship between two adults from the same gender and treat them in the mainstream," she said while other activists kissed each other.
"It's just fantastic," a foreigner present in the court was heard saying as many of them could not control their emotions and lost words to express their feelings.
However, some maintained calm like Lok Prakash and said "the High Court verdict is an acknowledgement about the existing of a special community in society and I am very happy the court supported us."
A few transgenders present in the court also exchanged greetings with each other. Outside the courtroom, they expressed their gratitute to their lawyers for the 'spectacular victory'.
When mediapersons sought their reaction and a photo session in the court complex, a few of them claimed themselves as couple and posed for perfect photo.
Neha Sood, an activist of voicesagainst 377.org,  told rediff.com that the court's judgement has finally restored dignity for gay and lesbians who felt harassed.

"The police used the provisions of 377 to extort money; the parents used it to force their sons and daughters to marry against their wishes and not live with a person of the same sex. Now we feel this problem would be taken care of and we would breath easy," she said

Ms Anjali Gopalan of Naaz Foundation said that in a few weeks, the government will have to make up its mind whether to challenge the order in the Supreme court.
"We hope the better sense will prevail upon the government to respect the court's verdict", she said.
Additional reportage: PTI
Image: Gay rights activists hug as they celebrate during a rally in New Delhi on Thursday
Photograph: Adnan Abidi / Reuters