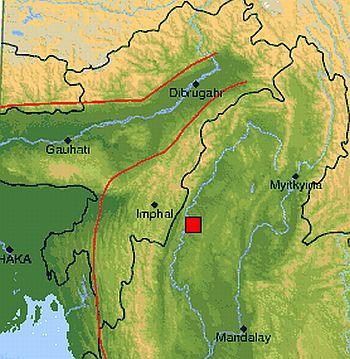 A moderate intensity earthquake measuring 5.5 on the Richter scale rocked the Northeast region on Tuesday.
The impact of the quake, which occurred at 2:32 pm, was felt at many places in the region, including Guwahati, Shillong, Imphal, Itanagar and north Bengal, besides neighbouring Myanmar, officials at the Central Seismological Observatory in Shillong said.
The tremor's epicenter was along the Indo-Myanmar border, 105 km southeast of Manipur's capital Imphal.
People ran outside their houses in panic during the nearly 20-second long tremor that was accompanied by a rumbling sound.
Today's quake was the sixth since August 13. The highest intensity tremor was on September 21 when Assam and Bhutan were shaken by a 6.3 magnitude quake that killed 12 in the neighbouring country. Some buildings in Guwahati had also developed cracks then and two apartment buildings had tilted.
The region, falling among the six major seismological belts in the world, had experienced a devastating earthquake measuring 8.7 on the Richter Scale in 1897, which killed over 1,600 people.

Image courtesy: US Geological Society