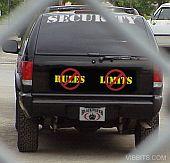 Controversial US private security firm Blackwater, accused of carrying out secret operations in Pakistan, has hired services of army officers and former employees of intelligence agencies of this country for "handsome" salaries, a retired ISI official has claimed.
Khalid Khwaja, who has been at the forefront in raising the issue of 'missing persons' or people detained without charges by Pakistani security agencies, said that ex-intelligence personnel hired by Blackwater had been asked to 'pick up people with alleged connections to Taliban or Al-Qaeda'.
The Supreme Court 'has directed the Pakistan government to produce some 1,000 or so missing persons. The Pakistani (intelligence) agencies have expressed inability to comply with the order (on the ground that they do) not have knowledge about the missing persons', he told PTI.
"I have written to the Prime Minister and the Interior Minister to investigate the matter," said Khwaja, a retired ISI official.
Blackwater, he claimed, has 'hired the services of army officers and former employees of intelligence agencies of Pakistan for handsome salaries'.
Former Pakistan army chief Gen Mirza Aslam Baig recently alleged on a TV news channel that Blackwater was involved in the assassination of former premier Benazir Bhutto.
Shireen Mazari, a defence analyst and editor of The Nation daily, believes the American security contractor is operating in North West Frontier Province, Islamabad, Quetta, Karachi and Lahore.
Islamabad recently deported a US national who was believed to be an employee of Blackwater, which also operated during wars in Iraq and Afghanistan and whose functions had been shrouded in secrecy.
The Interior Ministry said the American national was accused of establishing "illegal contacts with pro-Taliban militants."
The Lahore High Court too sought details of the deportation of the US national while hearing a petition regarding the presence of Blackwater in Pakistan.
The Pakistani media has been reporting about the presence of Blackwater in the country for the past few months. However, the Pakistan government and the US embassy have rejected reports about Blackwater's presence in Pakistan.
"Blackwater is not operating in Pakistan. We have our own system, rules and regulations and will not allow anybody to operate from here," Interior Minister Rehman Malik has said.

Blackwater has officially changed its name to Xe Services LLC.