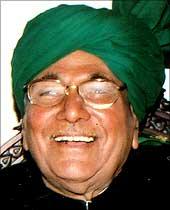 Refuting the charge that he had shielded former director general of police S P S Rathore in the Ruchika molestation case, former Haryana chief minister Om Prakash Chautala on Friday said while he had taken action against the officer, he was promoted by other governments.
"We took strong action against him. During my government (in 1990), we instituted a departmental inquiry against him. In my tenure later, we suspended him from the post of DGP as he was facing charge sheet in the case. He (Rathore) was promoted to the post of additional director general of police and DGP during the governments of Bhajan Lal and Bansi Lal. They should be blamed for the promotion," he told journalists.
S C Girhotra, Ruchika's father, accused Chautala of shielding Rathore in the case on Thursday.
Rathore, who molested 14-year-old budding tennis player in 1990, was sentenced to six-month imprisonment, 19 years after the incident.
Chautala said he, as chief minister, did not recommend Rathore for President's medal and that his name was forwarded for the award as part of a routine bureaucratic process.
"I did not recommended him for the medal. That was done as part of a routine work by officers. The issue (recommendation) did not come to my notice," he said.
Chautala said his government had taken strong action by initiating departmental inquiry against Rathore.
Ruchika was molested by Rathore, the then inspector general of police. She committed suicide three years later by consuming poison.
Girhotra has demanded that the former DGP should be punished for abetment to suicide instead of being let off with a lighter six-month sentence.
Chautala said the case dates back to August 12, 1990 when an first information report was lodged.
"I was not satisfied with the FIR only. We started departmental inquiry, which suggested that chargesheet should be filed in the case. Later the chargesheet was filed," he said.
"I am surprised how I am being blamed in this case. He (Rathore) was not promoted during my tenure," Chautala said.
He alleged that there were efforts to dismiss the case during the government headed by Bhajan Lal.
Ruchika's father had alleged that she committed suicide in 1993 after facing constant harassment from Rathore.
Chautala declined to comment on the demand made by Ruchika's father for framing charges of abetment to suicide against Rathore saying he was not a law student.
"I am not a student of law. I respect the court's decision. It is not the question whether I am satisfied or not," he said.
He also refuted the allegation that he had any relation with Rathore.
Asked why he did not dismiss Rathore when he was the chief minister, Chautala said such action is taken after a thorough procedure. If the victim's family is not happy with the judgment, they should move higher court on the issue, he said.
Image: Former Haryana chief minister Om Prakash Chuatala