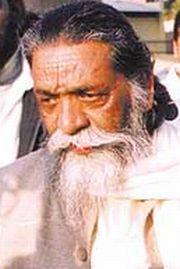 There are reports that Jharkhand Mukti Morcha chief Shibu Soren may meet the Haryana governor on Friday to discuss the formation of the new government in the state.
It has been three days now after the results of the polls for the Jharkhand state assembly elections threw up all sorts of possibilities with no single party in a position to form a government of its own in the 81-member Jharkhand assembly.
Sibu Soren's JMM has surprised everyone by winning 18 seats, and he could play the role of kingmaker.
A confident Soren said on Thursday that he wants nothing less than the post of the chief minister.
"We are the single largest party. We should get a chance to form the government. Others can come and support us if they want to," Soren said.
Soren has already shown his inclination towards the Bharatiya Janata Party asserting that he never called the party communal in the past.
Sources claim that if Soren is promised the chief minister's post, he would join hands with the Congress and stop pursuing Babulal Marandi, the chief of Jharkhand Vikas Morcha-Prajatantrik.
Marandi said on Thursday, "We are perfectly capable of forming and running a government without Soren's support."
But the Congress desperately wants to avoid depending on the support of Independents and the other smaller parties.
There are reports that the former Jharkhand chief minister Arjun Munda and Congress leader Subodh Kanth Sahai will be going to Delhi on Friday to meet their respective high commands.
Munda said on Thursday, "We believe our mandate is to sit in the Opposition. We don't want to form a government."
With the kind of reports coming in, and the responses from various political leaders of the state, it appears that government formation in Jharkhand will take a few more days.
PTI adds: JMM chief Shibu Soren was on Friday elected the party's legislative party leader.
"The decision was taken at the legislative party meeting at Guruji's (Soren) residence," said senior party leader and newly elected Member of Legislative Assembly Hemlal Murmu.
He said the meeting entrusted the party president for talks with like-minded parties on government formation in Jharkhand.
Senior JMM leader Champai Soren said the JMM supreme had been authorised to initiate talks with other parties to explore government formation.
Meanwhile, some other parties are also meeting on Friday to chalk out strategy after the elections results left a hung assembly in the state.
Image: JMM chief Shibu Soren