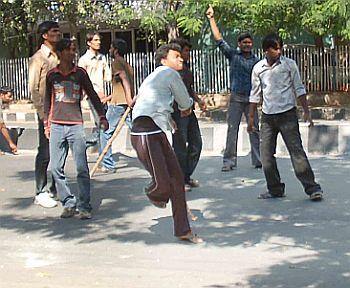 Facing the heat from their constituents as well as fellow legislators, Andhra Pradesh ministers hailing from Telangana region on Thursday came forward to resign from their posts but Chief Minister K Rosaiah prevented them from doing so.
The ministers first met state Congress Committee president D Srinivas in the morning and said there should have been more clarity in Union Home Minister P Chidambaram's latest statement on the statehood issue.
A clear-cut timeframe should have been fixed for the formation of Telangana state, they said.
Later, the ministers met the CM in the Secretariat and expressed their desire to put in their papers. He, however, prevailed upon them not to take such a step.
Instead, Rosaiah asked them to shoulder the responsibility and help restore peace in the strife-hit region. State information minister J Geeta Reddy and health minister Danam Nagender told mediapersons after the meeting with CM that they would go to New Delhi and meet Congress chief Sonia Gandhi seeking 'clarification' on the Telangana statehood issue.
"There is some confusion in the statement Chidambaram made yesterday. We want to clarity on the consultation process," the ministers said, adding all Telangana ministers were 'united.'
Meanwhile, 25 out of 52 Congress MLAs from Telangana region submitted their resignations to assembly speaker N Kiran Kumar Reddy this afternoon.
Though former minister R Damodar Reddy, who was leading the Telangana MLAs group, claimed that all party legislators from the region were submitting their resignations, 13 ministers, government chief whip Mallu Bhatti Vikramarka and many legislators from Hyderabad city and adjoining Ranga Reddy district did not do so.
From Hyderabad city, only Jubilee Hills MLA P Vishnuvardhan Reddy submitted his resignation while Sanathnagar MLA Marri Sashidhar Reddy announced that he would resign. The other legislators from the city so far remained non-committal on the issue, party sources said.
Image: Pro-Telangana activists pelt stones towards police barricades at Nizam College in Hyderabad on Thursday
Photograph: SnapsIndia  Text: PTI