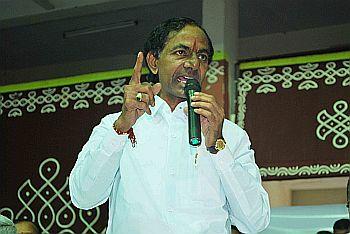 Telangana Rashtra Samithi president K Chandrasekhar Rao on Thursday rejected the Centre's reported move to go for a second State Reorganisation Commission on Telangana statehood issue and expressed helplessness if the agitation for the separate state took a violent turn.
Replying to a query from mediapersons, he said appointing a second States Reorganisation Commission is not at all acceptable to TRS.
"In fact, it is an insult for us. The first SRC had recommended formation of Telangana. Then where is the question of a second SRC now?" he said.
Warning that the Telangana movement might turn violent, Rao said, "What can we do? What is that anybody can do? Who organised lakhs of students to come onto the streets? People volunteered to come. Political parties were at today's meeting. Who provoked them? Mr Chidambaram provoked them," he said.
'There is a volcanic reaction in Telangana in protest against the Centre's fresh statement' last night putting Telangana formation issue on the backburner, he said.
He alleged the Centre has committed a mistake by 'going back on its promise to form separate Telangana. If they want peace in this part of the country, we are asking them to stick to the promise,' the TRS leader said.
Rao said a 'non-cooperation movement' will be launched soon to mount pressure on the government on Telangana issue and its modalities would be decided later.
Maintaining that en masse resignations by MPs, MLAs, MLCs and other public representatives demanding creation of Telangana were unconditional, Rao said, adding, "It is unethical for K Rosaiah to continue as Chief Minister of Andhra Pradesh."
"In fact, where is Andhra Pradesh today? There is a clear division in the state," he said adding the state's ministers should also resign in the wake of the Centre's 'failure to initiate the process for formation of Telangana.'
Claiming en masse resignation of public representatives from Telangana and the 'massive' public support for the statehood demand demonstrated that entire Telangana is united today, he asked the Centre to take steps for formation of a separate Telangana state immediately.
Asked if the President's rule will be imposed in the state, he said he does not know what will happen.
"In fact, the best solution is to give Telangana immediately," he said.
"All it needs is a simple bill in the Parliament. In fact, Congress and BJP together can do it. An assembly resolution is not at all necessary as the Constitution and Supreme Court had made it clear that assembly resolution is not necessary," Chandrasekhar Rao said.
Referring to Home Minister P Chidambarams statement that there is no unanimity in the state over formation of Telangana, Rao said consensus would never be possible because the total number of assembly seats in Telangana is much less than the seats in coastal Andhra and Rayalseema together.
Image: TRS chief K Chandrashekhara Rao
Photograph: SnapsIndia