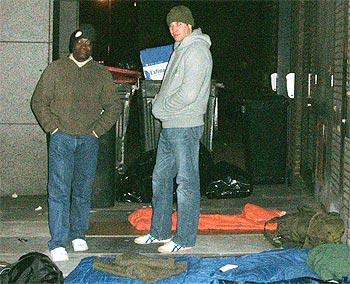 Prince William, the second-in- line to the British throne, has spent a night sleeping rough on the streets of London in freezing temperatures as part of his work supporting a charity for the homeless.
A photograph released by the charity, Centrepoint, shows the 27-year-old prince in a cold alley near Blackfriars Bridgein central London in jeans and a grey hooded sweatshirt, the British media reported.
William, who chose to sleep with the charity's chief executive Seyi Obakin to highlight the plight of homeless British teenagers, said he could not imagine what it must be like for those who sleep rough night after night.
"I cannot, after one night, even begin to imagine what it must be like to sleep rough on London's streets night after night. Poverty, mental illness, drug and alcohol dependency and family breakdown cause people to become and stay homeless," he said.
"Centrepoint's work -- along with many other organisations -- in tackling these fundamental causes is desperately important if we are ever to end homelessness in this country," William was quoted as saying.
Added Obakin, "It did not occur to me that Prince William would take up this challenge. But he was determined, as he has always been, to understand deeply the range of problems a homeless young person might face."
Image: Prince William (R) and Seyi Obakin, stand near Blackfriars Bridge in London on December 15, 2009.
Photograph: Reuters   Text: PTI