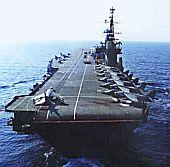 India's only aircraft carrier, INS Viraat, will have a special guest on Wednesday -- President Pratibha Devisingh Patil.
Patil, the supreme commander of the country's armed forces, will get on board the ship at around 11 am on Wednesday, a spokesman of the Indian Navy said in Mumbai.
The President is expected to witness Sukhoi Su-30 and Sea Harrier fighter jets take off from the ship during her three hour stay.
The 28,000-tonne INS Viraat, the Centaur class aircraft carrier, was originally commissioned in the British Royal Navy as HMS Hermes Nov 18, 1959. The Indian Navy acquired it in 1987.
The President also scheduled to attend a Fleet Review early next year.