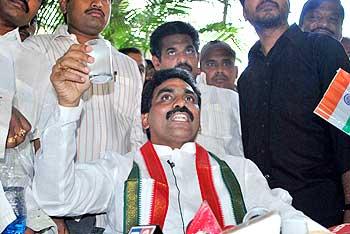 Congress Member of Parliament from Vijaywada Lagadapati Rajagopal on Tuesday ended his fast in spport of a united Andhra Pradesh.
Rajagopal had created a flutter when he escaped from police custody in Vijaywada to get admitted to the Nizam Institute of Medical Sciences in Hyderabad. He was slammed by Opposition parties as well as the Congress for his action.
Rajagopal was discharged from the NIMS on Tuesday afternoon. His health condition is stable and there is no cause for worry, hospital sources said.
The Congress MP claimed that he had escaped from police custody to show that he was free to go anywhere he wanted, and Hyderabad was not Afghanistan or Pakistan.
Meanwhile, Telugu Desam Party legislator D Umamaheswar Rao, who is on an indefinite fast in support of a united Andhra Pradesh, was 'very weak' and unable to speak, his doctors said on Tuesday. .
"Umamaheswar Rao is not able to speak. He is very weak but stable," doctors attending on him at the NRI hospital in Mangalagiri's Guntur district said. The TDP Member of Legislative Assembly was forcibly shifted few days ago from Vijayawada to the hospital after his condition showed signs of deteriorating.