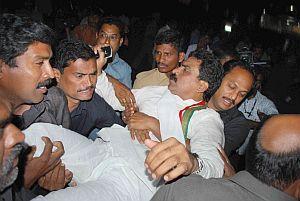 Lagadapati Rajagopal, 45, an industrialist-turned-politician, is a second term member of the Lok Sabha from Vijaywada constituency -- the commercial capital of Andhra Pradesh.
By openly coming out against the proposal of bifurcation of Andhra Pradesh, taking on the protagonists of a separate Telangana, and going on fast-unto-death for more than a week, the young MP has clearly emerged as the flag bearer of United Andhra Pradesh movement in his region.
After the announcement of Union Home Minister P Chidambaram on December 9 that the Centre was initiating the process for the formation of Telangnaa state, Rajagopal reacted with alacrity and became the first Congress MP from the state to send his resignation to the Speaker in protest against the plans to divide the state.
"This is a deep political conspiracy to weaken Andhra Pradesh at the national level," he said, vowing never to withdraw his resignation.
Rajagopal, the chairman and managing director of Lanco Group of Industries, and the richest MP from the state with assets of Rs 299 crore (according to his declaration filed with the Election Commission before 2009 polls), came from a middle-class family.
A mechanical engineering graduate from Siddhartha Engineering College in Vijayawada, Rajagopal started his political career in 2003 when he joined the Congress and made it bigger through matrimonial alliance. He married Padma, daughter of former Union minister P Upendra, who was once the architect of non-Congress alliance in New Delhi.
Hailing from the politically powerful Kamma community, Rajagopal took advantage of all the factors -- from caste to the cash -- to emerge politically stronger. After winning Vijaywada seat for the first time in 2004, he managed to retain it for the second term, despite strong anti-Congress feeling prevailing in the region.
In his career, Rajagopal has time and again demonstrated his strong political skills and sensed the opportunity to further advance his political career.
It was visible at every step during the current agitation, as his every deft move was marked by high drama.
It all started on December 14, when Rajagopal arrived in Hyderabad with plans of going on indefinite fast in the state assembly. A tricolour in hand, he tried to take out a procession with hundreds of his supporters from Shamshabad International Airport to the city when police arrested him (image above).
Despite plea of Chief Minister K Rosaiah and other leaders not to go on fast, Rajagopal made a second attempt on the same night, only to get arrested and packed off to his hometown Vijayawada.
Since then his fast-unto-death at the Swarajya Maidan in Vijayawada was the cynosure of all eyes, as people from all walks of life, especially the youth and students, gathered around him. Holding the national flag in hand, referring to the greats like  Potti Sriramulu (Telugu politician who fasted to death for the formation of Andhra Pradesh) and former chief minister and Telugu Desam founder N T Rama Rao, Rajagopal declared he was dedicating himself to the preservation of the unity of Andhra Pradesh.
He also bolstered his image by reaching out to the people across the party lines. While continuing his fast, Rajagopal visited the hunger strike camp of his classmate and Telugu Desam legislator Devineni Umamaheshwara Rao, who was also on fast unto death at another place.
"We are all fighting for one cause of a united Andhra Pradesh and we will fight together," he declared. "This has nothing to do with party or politics," he added.
But his political detractors, specially the Telangana Rashtra Samiti, say that Rajagopal was doing it not for the love of the state, but for the sake of his vested interests. It pointed out that Rajagopal had massive investments and projects in Hyderabad and other parts of Telangana, and it will be endangered if Telangana becomes a separate state.
LANCO, which has varied interests in construction, infrastructure, power, real estate and other sectors, is building a massive township 'Lanco Hills' in posh Jubilee Hills area of Hyderabad, with a total investment of Rs 2,500 crore.
The project was in the eye of a storm as the state government reportedly gave him Waqf land to develop. Like many other big real estate projects, LANCO has also taken a beating, because of the Telangana factor in the recent times.
Denying any business angle to his political protests, Rajagopal shot back, "Lanco has operations in 16 states and it has nothing to do with politics."
Along with his business and entrepreneurial activity, Rajagopal has also been involved in a wide range of social service through the LANCO Foundation, a charitable trust addressing various social and civic problems.
Rajagopal has time and again indicated his determination to continue his fight for a United Andhra Pradesh till the end, even at the cost of antagonising the party high command.
Looking back at the developments of the past ten days or so, culminating in his flight from government hospital in Vijaywada, it is obvious that Rajagopal has succeeded at least in his immediate goal of emerging the tallest figure of United Andhra movement.
Image: Police arresting L Rajagopal after he staged a sit-in protest against bifurcation of AP in Hyderabad on December 15. Photograph: SnapsIndia