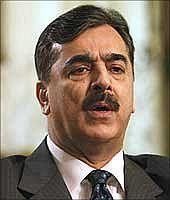 Pakistan Prime Minister Yousuf Raza Gilani on Saturday underlined the need for the early resumption of the peace process with India, saying the non-resolution of outstanding issues between the two countries is impeding Pakistan's efforts to counter terrorism.
"Non-resolution of outstanding issues is impeding the government of Pakistan's efforts to effectively counter the menace of terrorism," Gilani told a session of the Pakistan-occupied Kashmir Council that he chaired at the Prime Minister's House in Islamabad.
Gilani 'underlined the need for early resumption of the stalled dialogue process with India.' However, he said the dialogue 'must be meaningful and result-oriented.'
Referring to the need to resume the peace process that has been stalled since the Mumbai attacks in November last year, Gilani said he had 'impressed upon India and the rest of the world that terrorism is the real issue.'
Gilani said he had told world leaders that peace and stability in South Asia 'can only be guaranteed if all outstanding issues between Pakistan and India, including the Kashmir dispute, are resolved.'
Pakistan has 'shown commitment to reverse the course of confrontation in South Asia,' he contended. "Pakistan is ready to start a journey of peace and accommodation in order to provide a better environment to the people to prosper and develop," Gilani said.
Gilani hoped the governments of Pakistan and India 'would live up to the expectations of their own people as well as of the people of Kashmir so that the dream of lasting peace in South Asia can be realized.'
"Kashmiris are a party to the dispute and Pakistan believes that they are an integral component of the peace process," he said.
The Kashmiri people should be included in the dialogue process to make it 'more meaningful and result-oriented,' he added. Gilani assured the Kashmiris that the government and people of Pakistan 'will always stand by them at all times until they succeed in their struggle to achieve their right to self-determination.'
The premier reiterated Pakistan's commitment to finding a peaceful resolution of the Kashmir dispute in accordance with the aspirations of the Kashmiri people.
Pakistan will continue extending political, moral and diplomatic support to the Kashmiris, he said. The future of Pakistan and Kashmir 'is intertwined with shared destinies based on shared values, culture, history, traditions and a rich Islamic heritage' and the Kashmir dispute is 'central to Pakistan-India relations and holds the key to durable peace in the region,' Gilani said.
Pakistan has called for an end to alleged rights violations in Jammu and Kashmir and the withdrawal of 'draconian laws,' he said. The meeting, which was attended by Kashmir Affairs Minister Mian Manzoor Ahmad Wattoo and Information Minister Qamar Zaman Kaira, also passed the budget of the PoK Council.
Image: Pakistan Prime Minister Yousuf Raza Gilani