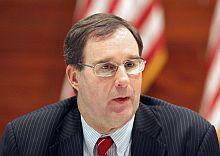 The relationship between the United States and Pakistan is complex, the Pentagon said on Thursday, acknowledging that there were tensions on both sides.
"Our relationship with Pakistan is complex," the deputy assistant secretary of defense for Afghanistan, Pakistan and Central Asia, David Sedney, told mediapersons after a meeting between the defense delegations of the two countries.
The 18th Defense Consultative Group Session the first since 2006 was led by undersecretary of defense for policy, Michele Flournoy, and Pakistani Defense Secretary Lt Gen (rtd) Syed Athar Ali.
The first such meeting was held in 2002. "There have been a lot of ups and downs over the years, and there are a lot of areas where we still have a lot of open questions and where there are, for lack of a better word, issues that continue to fester from the past. While it's unfortunate, that's also understandable," Sedney said.
"There are tensions on both sides... There're things that Pakistan wants that we're not able to do, things that we want Pakistan is not able to do," he said in response to a query.
He said sometimes the discussions between both sides got 'very, very difficult' while at times they are 'very, very positive.'
For Pentagon, he said, focus now is on supporting Pakistan in its internal struggle against extremism and helping build a long-term strategic partnership that looks beyond the current light to a Pakistan that plays an important regional role in security. "It was a frank and open discussion," Sedney said.
The Pentagon is helping Pakistan improve its intelligence, surveillance and reconnaissance capabilities, both through cooperative efforts that include border- cooperation centers, sharing of intelligence information, and also in the provision of additional equipment that the Pakistani government has asked for, he said.
Sydney said the US was confident that Pakistan has the ability to maintain security of their nuclear weapons. "This is an area of course that's very sensitive, important to the government and to the people of Pakistan.
We are saying that we have confidence in the government, the people and the military of Pakistan," he said.
During the meeting, Pentagon told Pakistani officials that the US role in Afghanistan is going to continue. "That was a message that was very important to the Pakistanis, because they don't want us to leave Afghanistan, as we did in 1989... We made that point," Sydney said.
Image: David Sedney
Photograph: Reuters