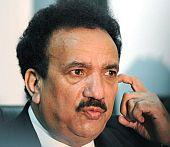 A Pakistani anti-corruption court on Friday issued arrest warrants for Interior Minister Rehman Malik, who is among 8,000 beneficiaries of a controversial graft amnesty struck down by the Supreme Court.

Judge Mir Muhammad Shaikh of the accountability or anti-corruption court in Karachi issued the arrest warrants against Malik in connection with two graft cases that were closed under the National Reconciliation Ordinance.

The cases relate to alleged misuse of authority and receipt of two cars for ordering a contract to a firm.

The apex court declared the NRO void on Wednesday and directed authorities to reopen corruption and criminal cases against over 8,000 people that were quashed under the law.

Authorities have already placed Malik's name on the interior ministry's Exit Control List, a move that bars him from travelling abroad.

The National Accountability Bureau, Pakistan's main anti-corruption agency, has filed a petition in an anti-corruption court in Rawalpindi for reviving cases against 19 people, including the Interior Minister, that were withdrawn under NRO.

Another anti-corruption court in Lahore on Friday issued notices to three NRO beneficiaries, including ruling Pakistan People's Party secretary general Jahangir Badr, who is a close aide of party chief and President Asif Ali Zardari. The notices directed the three persons to appear in the court on December 23.
The notices were served after the National Accountability Bureau filed a petition in the court in Lahore against 32 beneficiaries of the NRO, including Defence Minister Chaudhry Ahmed Mukhtar and Zardaris mother-in-law Nusrat Bhutto. The court is expected to serve notices to the 29 others named in the petition soon.

Offices of NAB across Pakistan have taken steps to revive cases that were quashed under NRO following the apex court's verdict.

Defence Minister Mukhtar was on Thursday barred from travelling to China on an official visit because his name has been included in the Exit Control List. Meanwhile, Geo News channel reported that the Attorney General's office has sought advice from the federal law ministry on implementing the apex court's order to revive cases in Swiss courts against Zardari.

The cases, relating to allegations that Zardari and his slain wife, former premier Benazir Bhutto, stashed millions of dollars in kickbacks in Swiss bank accounts, were closed under NRO on the directions of former military ruler Pervez Musharraf.

Geo News channel quoted its sources as saying that the Attorney General's office had written to the Law Secretary seeking advice on the steps to be taken to implement the Supreme Court's verdict.

Authorities have so far not taken any step to revive cases against Zardari, who enjoys immunity from prosecution by virtue of holding the post of President.
© Copyright 2023 PTI. All rights reserved. Republication or redistribution of PTI content, including by framing or similar means, is expressly prohibited without the prior written consent.