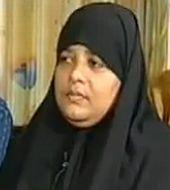 The Kerala police on Thursday arrested Sufiya Madani, wife of People's Democratic Party chief and controversial Islamic leader Abdul Nasser Madani, in a case pertaining to the burning of a Tamil Nadu state transport bus at Kalamassery.
The arrest came after the Kerala High Court rejected an anticipatory bail plea moved by Sufiya.
Sufiya was named as the 10th accused by the Kerala police recently, after the interrogation of suspected Lashkar-e-Tayiba terrorist Thadiyantavida Naseer, who was picked up by the Bangladesh Rifles along with an associate and handed over to Indian security agencies.
Though she was served a notice twice on December 9 and 10, Sufiya refused to appear before the police stating that she had been questioned several times and that no material evidence had been found against her. Assistant Commissioner of Police P M Varghese, who heads the investigation, filed a report in the Aluva judicial magistrate court on December 11, listing her as accused.
The accused had approached the high court the same day, seeking an interim direction to the police not to arrest her. However, Justice K T Sankaran on Thursday dismissed her bail plea stating that, prima facie, there were serious allegations against the petitioner of waging a war against the country.

Within minutes of the verdict, she was arrested and taken away amid slogans raised in her support by PDP activists, according to the police.
State Director General of Prosecutions VG Govindan Nair, while vehemently opposing the anticipatory bail application moved by Sufiya, stated that she had good personal rapport with Naseer and that the state police and the intelligence agencies had given clear reports on this.
The accused, including Naseer, had started off for the mission from Abdul Madani's Kochi home, the prosecution alleged, adding it was Sufiya who facilitated the burning of the bus as a protest against the Tamil Nadu government over the ill treatment meted out to Madani at the Coimbatore central prison.
Madani had been in detention in the Coimbatore prison in connection with the 1998 Coimbatore bomb blasts, which left 58 persons dead and over 200 others injured. A trial court later acquitted Madani.
In his order, Justice Sankaran said narrow political consideration should be kept aside and that the state was bound to protect the life and property of the people.
Additional Inputs: PTI