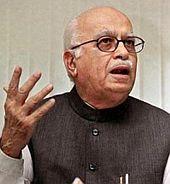 In what may be his last address to Bharatiya Janata Party MPs as Leader of the Opposition in Lok Sabha, Lal Krishna Advani on Tuesday expressed happiness over the display of opposition unity in Parliament on every issue during the current winter session.

He said the government tried to break this unity by leaking out the Liberhan Commission's inquiry report on the Babri Mosque demolition, but the ruling Congress got more flak from the non-BJP opposition parties than the BJP.

In contrast, he said the Congress presented a picture of 'dilemma and indecisiveness', particularly on three issues -- formation of new Telengana state, climate change and removal of Karnataka High Court Chief Justice P D Dinakaran.

Quoting Advani, BJP spokesperson Sushma Swaraj told media persons in New Delhi that the Congress and the government spoke with forked tongues on each of these issues creating utter confusion in public mind.

He also expressed satisfaction over the BJP succeeding in forcing substantive debates on all issues, except the 2G spectrum scam, that it had sought to raise during the winter session of Parliament.

Even while describing Advani's speech as the concluding address to the BJP parliamentary party meeting, Sushma said there would be yet another meeting on Monday if Parliament meets on that day instead of adjourning sine die early on Friday.

She said the opposition parties have succeeded in the Lok Sabha business advisory committee meeting for a brief debate on Monday on the Copenhagen climate change conference after a suo moto statement by the Prime Minister, who is going there, on its outcome.

Sushma Swaraj is herself expected to take the baton of the leader of Opposition from Advani after the current session of Parliament as brokered by the RSS to install the Gen Next in various top positions in the party.