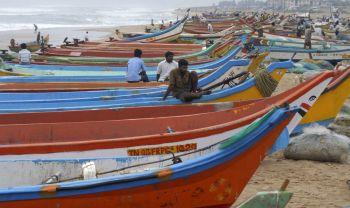 The beautified Marina Beach, which is sporting a new look with 14 viewing galleries and food courts, will be thrown open to the public on Sunday with the city corporation completing the Rs 25.92-crore facelift project.
Tamil Nadu Chief Minister M Karunanidhi will formally inaugurate the new beach on December 20.
"All the beautification works have been completed and the new facilities will be thrown open to the public from December 20," Corporation Commissioner Rajesh Lakhoni said. The beach, battered by the 2004 tsunami, now has 14 viewing galleries dotting its length of 3.10 km from the labour statue to the lighthouse, thronged by visitors.
Other attractions include landscaping, a four-metre wide internal walker path along the sands and water fountains.
"We have taken careful measures in beautifying the beach without affecting its existing ecosystem," Lakhoni said, adding the project was evolved after taking the opinion of stakeholders and oldtimers.
A famous spot on the city tourist map and much sought after place by the Chennaites, Marina has a long way since it was given a makeover by the then British governor Mountstuart Elphinstone Grant Duff in the early 1880s.
The beach lost much of its pristine beauty over the years due to various reasons such as pollution, prompting the government to take up the project under which the new facilities had been created. Use of plastic has been banned in and around Marina.
The state government has funded 75 percent of the total cost of the project, including a grant of Rs 5 crore by the Central government and the remaining 25 percent had been met by the civic body.
Lakhoni said a well designed and high-tech lighting arrangement had also been put in place to enable the visitors enjoy the scenic beauty of the beach even during night.
Other facilities such as setting up parking areas, creation of playing area for children, facility for physically challenged people and setting up of food court were also taken up under the project, he said.
He warned the corporation would take severe action against vendors found selling plastic bags or other banned products in the beach, adding selling of water packets has also been prohibited.
The civic body would soon seek the help of social service organisations to set up water purification plants along the beach to provide clean drinking water free of cost.
Image: A file photograph of Chennai's Marina Beach | Photograph: Babu Babu/ Reuters