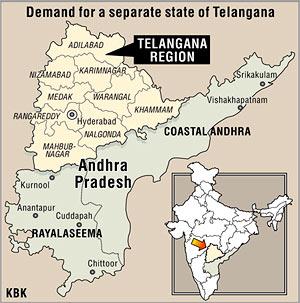 Till September 1948, Telangana region was part of Nizam's dominion, which was the biggest Muslim state in India under British rule, known as the Hyderabad state.
After Hyderabad's merger in the Indian Union a year after Indian became independent, it was divided in to three parts. While some districts went to Karnatka and Maharashtra, Telanga region retained its identity of a separate state till 1956.
Under sustained pressure from the coastal Andhra region (earlier part of Madras presidency under British rule) the government of India merged Telangana, including Hyderabad, with the Andhra state comprising of thirteen districts of coastal Andhra and Rayala Seema region.
But complaining of injustices and discrimination, the people of Telangana continued their fight for a separate state. The biggest agitation was witnessed in 1969, when more than 400 hundred people died in government crack down and the demand went on to the backburner.
Several agreements were reached between Andhra and Telangana on ensuring justice in river water sharing, government jobs and sharing of funds, but they were never kept.
K Chandrasekhara Rao revived the demand in 2001 after he left Telugu Desam Party, and his struggle after many ups and downs culminated in the victory few had hoped.
The region today has 35 million population spread in ten districts including Hyderabad, the state capital. Most of its area is arid and dependent on rains for agriculture, though both the big rivers of the state -- Godavari and Krishna -- pass through the region.