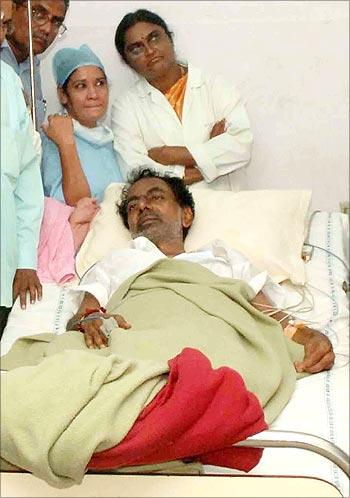 By his astounding feat of forcing the government of India to bow before him and accept his demand for carving out a separate state of Telangana from Andhra Pradesh, 55-year-old Kalvakuntla Chandrasekhara Rao has forced both his friends and enemies to sit up and take notice.
It is not new for this man from Medak district in Telangana and a member of landed community Velma -- to surprise the observers by his dramatic actions.
Rao, who started his political career in the late 1970s and joined the newly launched regional Telugu Desam Party of film star NT Rama Rao in middle of 80s, has seen many ups and down in his political career.
Despite having the image of a master of political craft, a strategist, thinker and orator par excellence with a command on four languages, KCR ran in to trouble with N Chandrababu Naidu, the supremo of TDP and former chief minister, when he did not induct him in to his cabinet after the 1999 polls.
Finally in 2001, he quit his post of deputy speaker of Andhra assembly and launched the movement for a separate Telangana state, saying the region always received step-motherly treatment at the hands of rulers from Andhra region.
Later, he converted the moment into a political party – the Telangana Rashtra Samithi. Contesting the first general election in 2004 as an ally of the Congress, TRS won 26 seats in the state assembly, and five seats in the Lok Sabha. But walked out of both the governments following his failure in forcing the government to grant statehood to Telangana.
During the same term in Parliament, Rao quit Karimnagar Lok Sabha constituency twice and won with a bigger margin. But the political fortunes of TRS continued to dip.
In the 2009 general elections, when TRS turned topsy-turvy and joined hands with the TDP, it could hardly manage to get less 5 per cent of popular votes, only ten seats in the state assembly and two seats in the Lok Sabha. While he was elected from Mahbubnagar with great difficulty, actress Vijay Shanti was elected from Medak on a TRS ticket. But she too parted ways with Rao within a few weeks.
Many believe it was his streak of turning disadvantage in to opportunity that Rao decided to take the calculated risk of sitting on fast unto death to press the demand for Telangana. Earlier, he used the same card of sacrifice to strengthen his hold on his own party. Accepting the moral responsibility for the party's electoral debacle, KCR resigned as TRS president in May last. But his loyal party cadres forced him to come back.
Similarly this time, he reoccupied the high moral ground by going on fast unto death. Many believe that in a way he emulated the popular film character of Bollywood Raju Guide in film Guide played by Dev Anand in early 1970s. In that highly popular film, Dev Anand turns from a sinful life to a sanyasi and observe fast unto death to bring the rains in a drought hit village. He dies as the first drops of rains drench his face.
But in this real life story, the hero survived to see the victory and perhaps enjoy a more prosperous political future.
Text: Mohammed Siddique in Hyderabad
Image: TRS chief K Chandrashekhara Rao ends his eleven-day-long fast at NIMS, Hyderabad on Wednesday night
Photograph: SnapsIndia