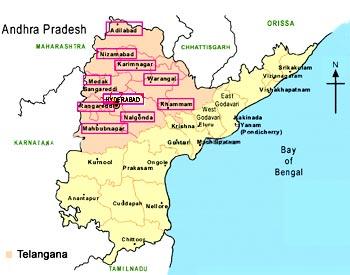 A day ahead of the call for march to the legislative assembly to press their demand for a separate state, the police on Wednesday cracked down on pro-Telangana activists on the Osmania University campus, taking into custody around 50 of them.
They also foiled an attempt by the supporters of the Bharatiya Janata Party's students wing Akhil Bhartiya Vidyarthi Parishad to storm the state assembly, which is in session.
The Telangana Rashtra Samithi and the Joint Action Committee of students, spearheading the statehood movement, have together called the march to the assembly on Thursday to give an added thrust to their agitation.
The JAC activists had been mobilising support for their movement on the campus where they had pitched camps since last nine days.
"The protesting student leaders who are led by outsiders have been removed from the camps. We asked them to stay away from the Osmania University. They were staging dharna on the varsity campus without permission," Hyderabad City Police Commissioner B Prasada Rao told PTI.
Already seven student leaders have been taken into custody in the last two days. A huge deployment of policemen and paramilitary forces has been made on the campus to check mobilisation of students for the proposed rally and to prevent any violence, he said.
The Osmania university campus has been the epicentre of students' agitation ever since TRS chief K Chandrasekhara Rao launched his fast-unto-death on November 29.
The JAC students union had threatened to storm the legislative assembly on December 10 if a resolution was not adopted by the house in support of creation of a separate Telangana state, but later decided to take out a 'peace rally.'
However, the police said the students would not be allowed to take out any rally. Meanwhile, around 200 ABVP activists have been taken into preventive custody while trying to forcibly enter the assembly premises.
Image: An illustration of the proposed Telangana state